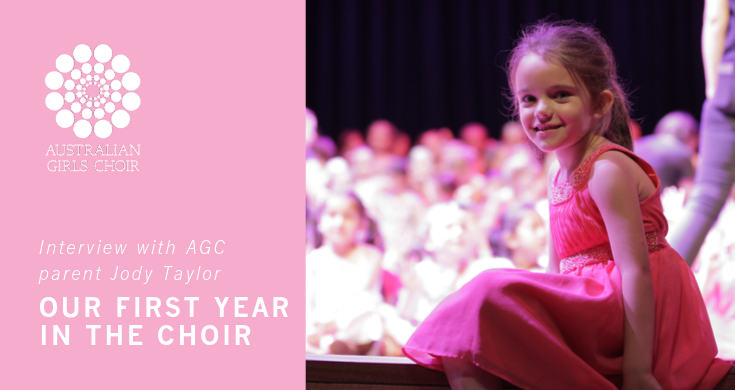 Interview with AGC parent Jody Taylor – 'Our first year in the choir'
The Australian Girls Choir provides opportunities for young girls to explore and develop their creativity and musicality in a fun and supportive environment. Girls blossom musically and socially as members of the AGC, and we adore watching our choristers find their voice through music and grow into confident young women.
This week we chat with Jody Taylor, one of our delightful AGC mums, whose daughter Lily joined the AGC after trying a free class at her local rehearsal venue. Jody shares with us a bit about Lily's first year at AGC, the importance of a creative education, and the role music plays in their life.
What age did Lily join the choir? Can you describe her first experience with AGC?
Lily joined when she was five. She got a flyer at school and I remember reading the words, "does your daughter love to sing?", and it was a big yes! So we went along to a try out class. She enjoyed it so much that I enrolled her immediately. There was a waiting list at the time, but luckily we got a place. I remember how excited I was when I got the call. She was at school and couldn't wait for her to get home to tell her! She was absolutely rapt.
Why is giving your daughter a creative education important?
I'm a photographer so the arts and creativity are a big part of my life. I have always loved music and concerts, but I have no singing ability. I don't know where she gets it from! But we absolutely love to sing together around the house. Music makes people happy, it's a natural stimulant.
I think you need to focus on what a child's natural talent is, and for Lily that was music, singing and performing. It's important for kids to enjoy what they do in life, whatever that may be.
Can you share your favourite part about having Lily in the Australian Girls Choir?
I love how happy classes at AGC make her. No matter how bad a day she has had at school, she goes to her weekly class and comes out on a high, happy, giggling and singing the whole way home. Just to see that joy every week makes everything better.
I believe it is genuinely beneficial to her happiness and well being. I love the camaraderie among the girls. I'm moved by it at every event.
Can you share some performance highlights?
I think the ultimate was last year's Carols by Candlelight. She enjoyed that so much. It was multiple songs, with a lot of fun performance parts. She said it was so much fun to perform. She was so excited to sing alongside Lucy Durack, Tim Campbell, Rob Mills and Santa! She enjoys all her concerts and performances so much.
Her first big public performance was at the rugby. When I picked her afterwards she was acting weird. I thought maybe something went wrong during the performance. Eventually she caved. She was upset because it was all over. She had such a great time with all the girls, singing and laughing on the bus there and back. They had a great night together. She didn't want it to end.
What would you say to a parent thinking about enrolling their daughter in the Australian Girls Choir?
I would say, do it! You won't regret it! Your daughter will have an incredible time and make amazing friends.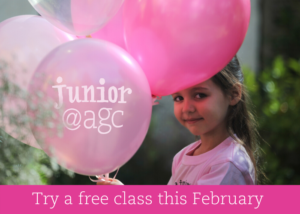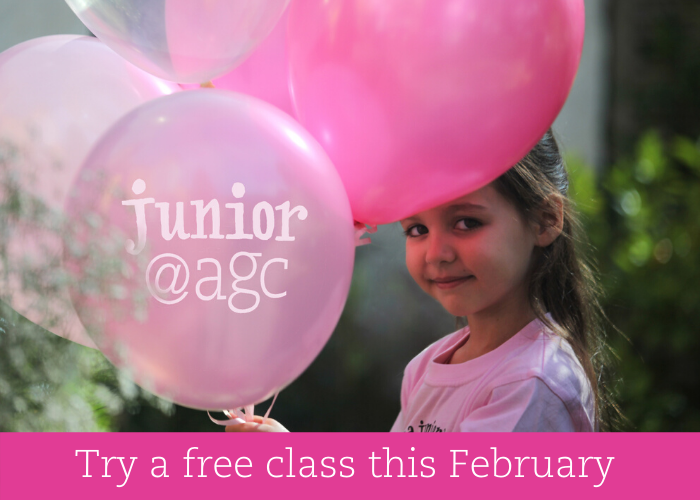 Try a free singing class in February at your local rehearsal venue
We are delighted to invite girls to try a complimentary Open Class this February.
Attending an Open Class at your local rehearsal venue is a great way to experience the range of performing arts activities that are offered in our weekly classes.
Open Classes are free, but places are limited. Registration essential to attend.
Find out more about Open Classes here.