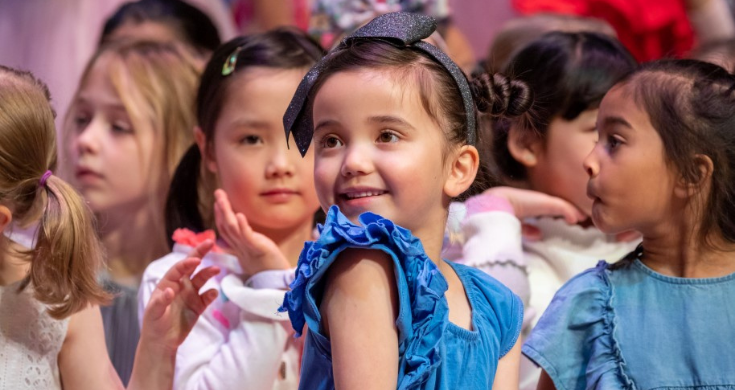 'Our first year in the choir' – Interview with AGC parent Luciana Lo
We adore watching choristers find their voice through music in their first few years at AGC. This week we chatted with Luciana Lo, one of our delightful AGC mums, who shares memories of her daughter Isla's first year in junior@agc. Luciana tells us how Isla is benefiting from a creative education and all about her favourite part of concert days.
What age did Isla join the choir? Can you describe her first year at AGC?
Isla has been attending the choir since she was 5 years old. Isla was a bit shy to begin with and was more inclined to observe the teacher and other students for the first few lessons. Isla quickly warmed to the new environment, the wonderful AGC tutors and the other choristers, and was soon was very excited to be attending choir classes each Saturday morning.
Can you share your favourite part about having Isla in the AGC?
I love seeing Isla happy and smiling each week before and after attending choir. Isla's enthusiasm and desire to practice in preparation for her concerts and performances is a highlight. I also appreciate the professionalism the AGC choristers display.
Why is giving Isla a creative education important to you?
I play the piano for leisure and Isla has been surrounded by her older sister's ballet training and performances since she was born. However Isla was always humming and singing to herself around the house so we decided to enrol her in AGC so she could receive formal training. I believe it's important to encourage children to develop their interests and passions. AGC has helped her to develop her imagination and advance her critical thinking, which in turn creates an interest in ongoing learning.
Can you share any performance highlights?
Isla not only enjoys the actual performances, but she especially enjoys the behind the scenes preparation and lead up, and being backstage throughout the day of the performance with her friends from choir. The highlight for us was one concert where Isla walked off stage and told us she wanted to do the entire performance again because she had enjoyed it so much!
Experience the benefits of the Australian Girls Choir
Parents value the hidden elements of our curriculum – a focus on developing confidence, self-esteem, public speaking skills, resilience, discipline and presentation skills. We find that our focus on mentoring and role modelling is an aspect of our program that sets us apart from similar organisations.
Does your daughter love to sing, dance and perform? With limited places in our popular lessons, girls are invited to try a free class to find out what it's like to be part of the AGC.