Your daughter's first year at AGC
You may be wondering what your daughter's first year with AGC will look like, as she begins her journey with the choir. Our lessons provide an opportunity for young girls to explore and develop their creativity and musicality in a fun and supportive environment. Girls blossom socially as members of the AGC and we adore watching our choristers grow from little girls into confident young women over their years at the choir.
Have your daughter leap into 2022 with the fun and excitement of AGC. Read about her involvement below and sign up to try a free class at Open Day.
Having fun and making new friends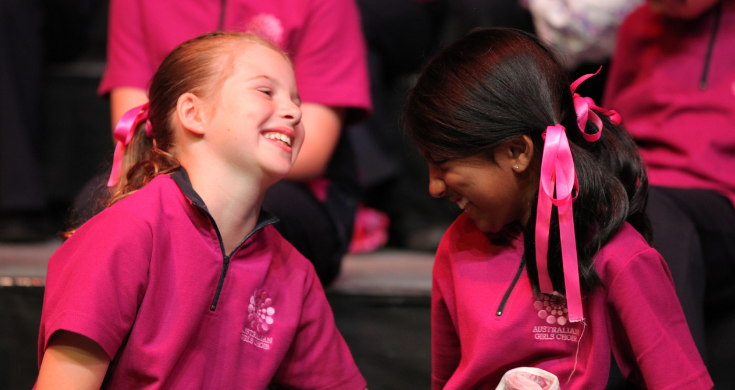 AGC is a place where your daughter will come together with other like-minded girls to sing, laugh and grow together in her weekly lessons. Girls know they belong to a dynamic group of girls with shared interests and goals, which often results in lifelong friendships being formed.
Choir Leader Clare shares that, "At AGC you make so many friends immediately. It's different to school. At AGC everyone is there because they love music, so you feel a genuine connection with all of the girls and your friendships just grow and grow."
Even parents with more shy daughters quickly see the results of participating in our lessons. "Isla was a bit shy to begin, but she quickly warmed to the wonderful AGC tutors and the other girls. Soon was very excited to attend her classes each Saturday morning. I love seeing Isla happy and smiling each week before and after attending choir" says parent Luciana Lo who enrolled her daughter Isla after trying a free class at Open Day.
Growing musically and developing presentation skills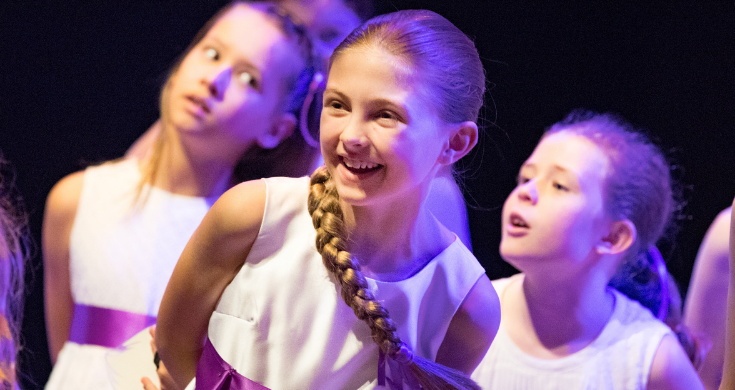 The founding philosophy at AGC is that every child can learn to sing given encouragement and training. Our dynamic and inclusive curriculum is designed to cater to varying abilities and confidence levels as they progress through the choir.
When asked about her musical education at AGC, chorister Clare reflected, "I feel so fortunate to have grown up with such an eclectic musical education which I credit to AGC. I've been exposed to so many different styles of music. Classical pieces, to jazz, to musical theatre, to more modern and contemporary pop songs. When people ask me what my favourite song is I can't even pick a genre!"
Positive role-modelling from the 'big girls'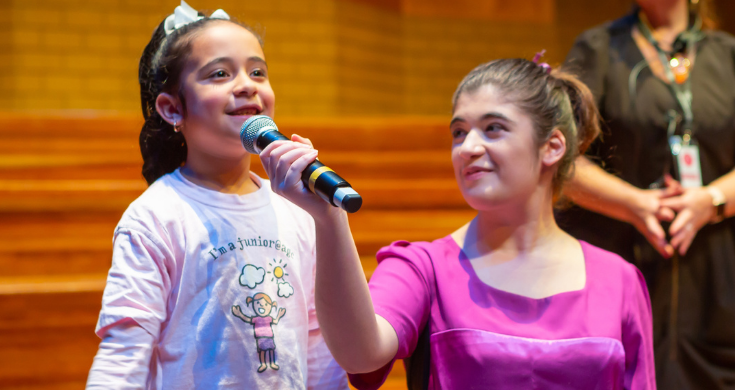 Our focus on mentoring and role modelling is an aspect of our program that sets us apart from similar organisations. Our senior choristers become positive and aspirational role models to our junior choristers, who delight in learning from the more experienced performers.
"We aim for the culture of the Australian Girls Choir to be an extremely positive place for girls to grow up. So at the heart of this organisation is positive role modelling and mentoring." Says our CEO Nicole Muir.
Parents comment on how rewarding it is for their daughter to develop values such as commitment, perseverance and self-discipline from positive and responsible role models.
"When I was a younger chorister I remember looking up to the 'big girls'. I didn't realise then, but the things that I was idealising was their hard work, their ability to keep going and keep pushing and try new things. To be brave and put themselves out there. And I wanted to be just like that." Says AGC Alumni Rebecca Sabatino.
Experience the AGC in action at Open Day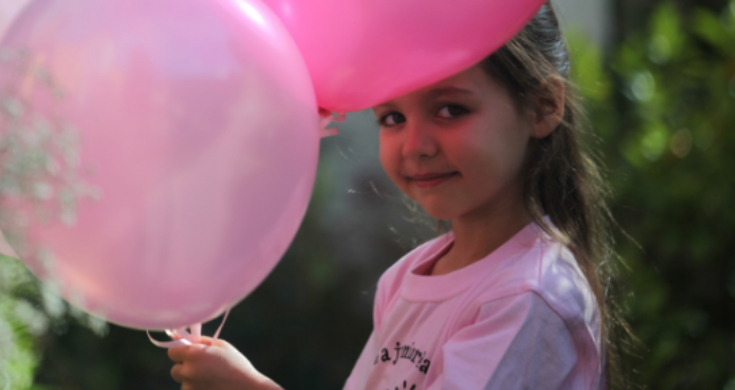 Join us at our Open Days taking place across the country in November and December to find out more. Girls who will be school-aged in 2022 are invited to join us for a complimentary class, watch a junior choir perform, meet our lovely tutors and experience what it's like to be a part of the Australian Girls Choir!
Attendance is free but places are strictly. Registration is essential to attend.
For further details about Open Day, venue locations and class timetables, please see our Open Day page.
Register Now
Please use the registration form below and we will be in touch within 3 business days with venue details and to confirm your booking.
If you are unable to attend Open Day, but would still like your daughter to try a free class, select 'contact me for an alternative time' and we will be in touch to book you in for a free class at your local rehearsal venue.
Please note: Session times based on 2022 school grade.
juinor@agc… a very good place to start