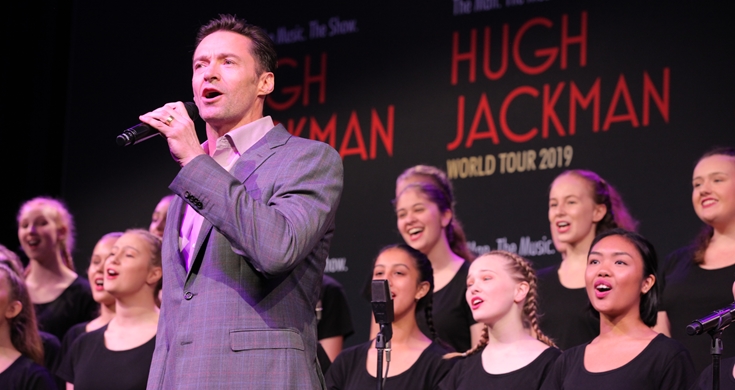 Our Sydney choristers had a very exciting start to last week as special guests at the launch of the Australian leg of Hugh Jackman's World Tour.
50 of our senior choristers inspired the room full of media personalities and journalists with their breathtaking performance of A Million Dreams from the award-winning movie, The Greatest Showman, alongside the man of the hour. The excitement continued as the girls took the stage to perform the number one smash hit This is Me with Keala Settle.
After two weeks rehearsing for a 'confidential launch', the choristers involved were only informed they would be performing with the international stars minutes before their rehearsal with them. Moments after the launch, footage of the performance went viral and was shown on news outlets around the country.
Our relationship with the Australian icon has evolved since our first performance with Hugh at the Melbourne Cup in 1997.  Some of the performance highlights include:
'Boy from Oz' Arena Tour in 2006
A surprise appearance at Hugh's 40th Birthday Party
Oprah's Ultimate Australian Adventure in 2010
'Broadway to Oz' Australian Tour in 2015
"Singing with the Australian Girls Choir was a highlight; they are extremely talented, disciplined and friendly.  The power of the performance was enhanced by their beautiful voices and the audiences especially loved our rendition of "I Still Call Australia Home".
Hugh Jackman, 'Broadway to Oz' Tour
This performance was a once in a lifetime opportunity for the girls involved and we wish Hugh Jackman and Keala Settle the best of luck with their upcoming tour! Tickets for the show can be purchased via Ticketek.