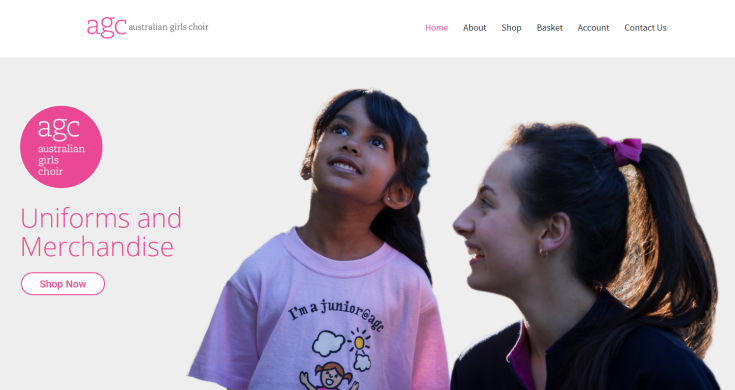 We are delighted to announce the launch of our new AGC Online Shop, which allows families to quickly, easily and securely purchase uniform and merchandise items.
The AGC Online Shop will replace the current ordering and payment process, and paper order forms will no longer be accepted. All credit card payments via the AGC Online Shop will be securely processed through the Westpac payment gateway. Please note that the delivery process will remain the same; items will be delivered to your daughter's rehearsal venue within 3-4 weeks (we do not currently offer shipping to personal addresses).
The AGC Online Shop address is shop.ausgirlschoir.com.au

For further information on the uniform requirements for each level visit shop.ausgirlschoir.com.au/uniform-information/
An outline of the website structure is included below:
Home Page – this is where you will find links to the various product range pages which outline the relevant uniform items required for each level. Alternatively you can select the full product range or merchandise range.
About – contains important information about how to use the website, delivery terms, and product return terms (including exchanges).
Shop – clicking on "Shop" in the top menu will display all uniform and merchandise products. You can select 'Filter' at the top of this page and narrow the product list to items relevant to your daughter's level.
Basket – this is where you can view the items you have added to your shopping basket, in preparation for purchase.
Account – when finalising a purchase, you will have the option of creating an account or checking out as a guest. Creating an account will allow you to view recent orders and reorder, and manage your billing addresses and payment information.
When viewing a specific item, garment measurements can be found by clicking on 'Size Guide'. If you are unsure of sizing, we recommend that choristers try on uniform samples at their weekly rehearsal venue before placing an order.
Special Offer – Engraved Pink Drink Bottle
The AGC Online Shop has a range of merchandise products available to purchase including an AGC Music Pack, Backpack, Badge and CD. We also have drink bottles available for sale and for a limited time we are offering the option of personalised engraving on our new pink drink bottles. Orders will need to be received by Saturday February 18 and will be distributed by the end of Term 1.
If you encounter any problems with placing an order please contact us at headoffice@aspagroup.com.au or Ph 03 9859 6499.
We hope you enjoy exploring the new AGC Online Shop!