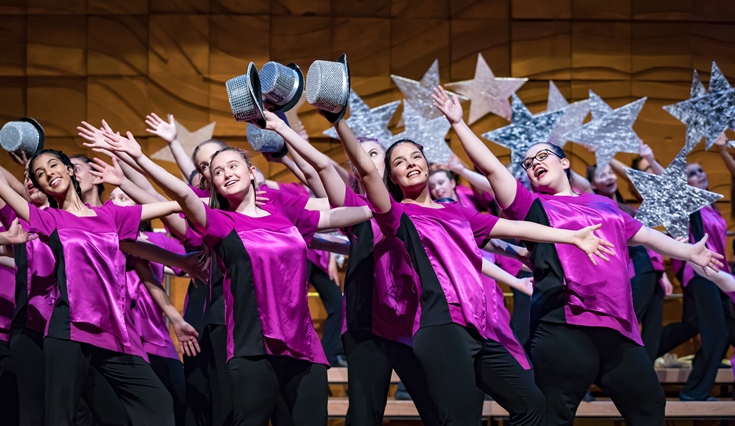 Senior choristers in Adelaide, Brisbane, Melbourne Perth and Sydney are delighted to present the Australian Girls Choir in Concert in August, a spectacular showcase of song and dance not to be missed!
You will be stunned by their exquisite singing, impressed by their dazzling dance steps and moved by the passionate performance of the AGC's senior performance groups.
This enchanting performance will take the audience on a musical journey featuring varied and entertaining repertoire including the Brazilian party piece 'Toque De Timbaleiro'; quirky jazz number 'Oh So Quiet'; French choral work 'Dirait-On'; and a celebration of music theatre in 'Magic to Do'.
Visit the links below or contact us for information on how to purchase tickets or visit our Facebook events.
Adelaide
Saturday August 18 at 3.30pm
Elder Hall, Adelaide University, North Terrace, Adelaide
Tickets available via TryBooking from Monday July 23
https://www.trybooking.com/WIBR
Brisbane
Sunday August 26 at 3.30pm
Moreton Bay College Music Centre, Hargreaves Road, Manly West
Tickets available via TryBooking from Monday July 30 at 1pm
https://www.trybooking.com/XBWO
Melbourne
Saturday August 18 at 7.00pm
Melbourne Recital Centre, 31 Sturt Street, Southbank
Tickets available via Melbourne Recital Centre
https://www.melbournerecital.com.au/events/2018/australian-girls-choir-in-concert/
Perth
Saturday August 25 at 3.30pm
RNDM Performing Arts Centre, Sacred Heart College, Hocking Parade, Sorrento
Tickets available via TryBooking from Monday July 30 at 1pm
https://www.trybooking.com/WYFI
Sydney
Saturday August 25 at 7.00pm
The Concourse Concert Hall, 409 Victoria Avenue, Chatswood
Tickets available via The Concourse
http://theconcourse.com.au/australian-girls-choir/