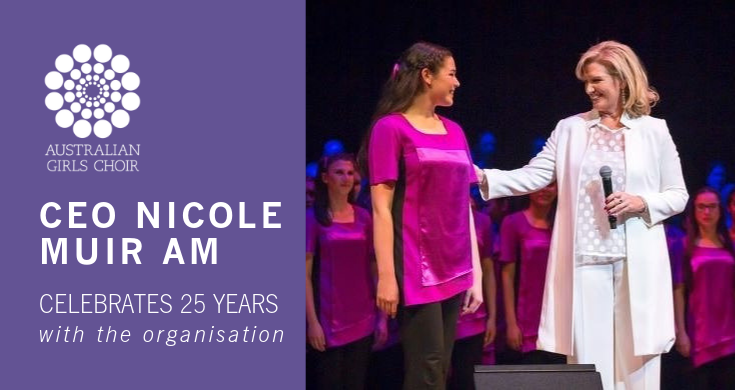 This week, our inspiring leader Nicole Muir AM celebrates her 25th work anniversary.
Applying for an administrator position in 1994, Nicole vividly recalls her job interview with Australian Girls Choir (AGC) founder, Judith Curphey OAM.
"I'd been casually employed as a teacher, actor, director and hospitality worker and, at 27, this was to be my first full time job. Judith asked how long I thought I could commit to being with the organisation. My considered answer was one year."
25 years later and now the CEO of the Australian School of Performing Arts (ASPA), we asked Nicole to reflect on her legacy in the position, as well as her own journey to stepping into an executive leadership role.
The Australian Girls Choir has always had empowering women at its roots.
"Judith was ahead of her time when she created this organisation. She was challenging the male dominance in the choral world. She was challenging the conservatism of choirs generally. She was a woman who never doubted her capacity to do whatever she wanted to do and I have been very fortunate to be mentored by her." says Nicole.
Following in Judith's tradition, Nicole has proactively mentored employees at all levels of the organisation and built a senior executive team of women.
 "One of the things I love doing in the organisation is growing people at junior levels. One of the most natural things in the world has been to nurture and to grow the team and the organisation."
Role modelling has been an important part of building a workplace culture of mentorship and leadership opportunities for women.
"Members of the leadership team are exceptional role models; they are all endlessly creative, they are up for any challenge and they are prepared to challenge me. While we share some traits, we  don't try to imitate each other. We provide different versions of leadership for our employees to experience and aspire to."
Many people comment on the all-female leadership team at ASPA. Not only is the team made up of talented, committed and clever women, four out of  five of them have been with the organisation for over 20 years.  Nicole and Judith are proud of this and see this unique aspect of the organisation as being key to its success.
Nicole's passion for empowering women is also cemented in co-founding Girls from Oz in 2007.
Girls from Oz (g-oz), the AGC's official charity partner, is committed to improving education and employment outcomes for students in remote Australia, particularly Aboriginal and Torres Strait Islander girls and young women, living in some of the most at-risk communities in Australia.
"It's really tough to start a charity. Confidence is really important. And reliability. People with the best intentions in the world start up a charity, but can't hold it together. Judith, Jane and I,  as directors of the company, shared the very firm belief that there were many more girls in Australia that needed to be reached."
Eleven years later, Girls from Oz has gone from strength to strength with Nicole in the role of Chair working alongside some senior ASPA team members. Of the 122 g-oz participants who have taken part in a Travel Program since 2010, 84% are employed or still studying. In 2019, $61,000 was raised in three months from the Australian Girls Choir community, who are the most passionate supporters of g-oz's work. Last year, Nicole was made a Member of the Order of Australia for significant service to the performing arts, and to women and young girls, particularly in rural and remote regions.
Leading authentically.
When reflecting on her professional journey from a drama student applying for her first 'real job' as an arts administrator, to leading a company of over 250 employees as CEO, Nicole describes it as a gradual transition of learning and growth.
"Nearly half of my life has been spent in a leadership role in this amazing organisation. While I was never afraid of the traditional 'male' approach to doing business, I didn't challenge it at first.  I've always know that I'm strong, but I've learned that I can be tough when I need to be. That took time and fortunately isn't required too often. I've learnt so much over the years, and importantly as a leader I've learned that I can be myself – authenticity is essential."