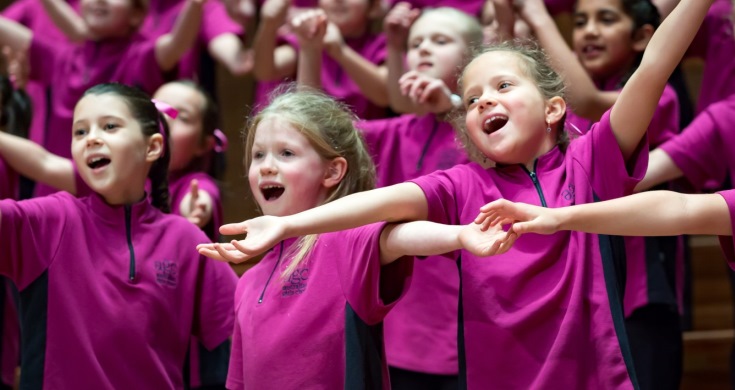 Come along and join in the fun at our Open Days on Saturday October 28 in Caringbah (NSW), or Sunday October 29 in Adelaide, Brisbane, Melbourne, Perth and Sydney (Waverley and Beecroft)!
We are delighted to invite girls who will be school aged in 2018 to attend our Open Day, where they can join in a complimentary class, meet our staff members, attend an information session, talk with senior choristers and register for 2018 classes!
Our Open Days are held in a central location/s in each city, however for a full list of AGC rehearsal venues, please see the AGC Brochure.
We encourage you to Contact Us prior to Open Day to book in so that we can organise a nametag for your daughter. Alternatively you are welcome to come along without booking; please see confirmed times below.
Adelaide:
Date: Sunday October 29
Time: Girls who will be in Reception to Grade 8 in 2018: 12.15pm – 1.45pm
Location: Prince Alfred College, Dequetteville Terrace, Kent Town (enter via Parade West)
Brisbane
Date: Sunday October 29
Time: Girls who will be in Prep to Grade 8 in 2018: 1.15pm – 2.45pm
Location: Brigidine College, Fairley Street, Indooroopilly
Melbourne
Date: Sunday October 29
Time: Girls who will be in Prep – Grade 2 in 2018: 1.15pm – 2.45pm
Girls who will be in Grade 3 – 4 in 2018: 3.00pm – 4.15pm
Girls who will be in Grade 5 and above in 2018: 3.15pm – 4.30pm
Location: Genazzano College, 301 Cotham Road, Kew
Perth
Date: Sunday October 29
Time: Girls who will be in Pre-Primary – Grade 2 in 2018: 12.15pm – 1.30pm
Girls who will be in Grade 3 – 4 in 2018: 2.00pm – 3.15pm
Girls who will be in Grade 5 and above in 2018: 3.45pm – 5.00pm
Location: Perth Modern School (Stokes/Thomas Building), Subiaco Road, Subiaco
Sydney – Caringbah Location
Date:     Saturday October 28
Time:     Girls who will be in Kindergarten – Grade 1 in 2018: 9.15am – 10.30am
Girls who will be in Grade 2 – 4 in 2018: 10.00am – 11.15am
Location: St Phil's Anglican Church, 402 Port Hacking Road, Caringbah
Sydney – Beecroft Location
Date:     Sunday October 29
Time:     Girls who will be in Kindergarten – Grade 2 in 2018: 1.15pm – 2.45pm
Girls who will be in Grade 3 –4 in 2018: 3.00pm – 4.15pm
Girls who will be in Grade 5 and above in 2018: 3.15pm – 4.30pm
Location: Mount St Benedict College, Pennant Hills Road, Pennant Hills
Sydney – Waverley Location
Date:     Sunday October 29
Time:     Girls who will be in Kindergarten – Grade 2 in 2018: 1.15pm – 2.45pm
Girls who will be in Grade 3 and above in 2018: 3.00pm – 4.15pm
Location: Waverley College (Performing Arts Centre), 131 Birrell Street, Waverley (car park located on Henrietta Street)