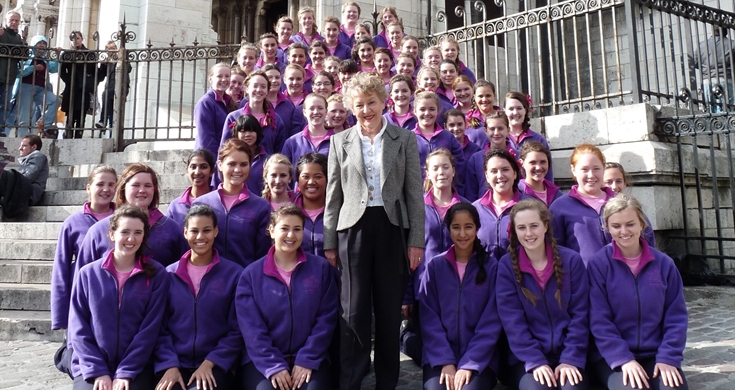 2019 marks the AGC's 35th Birthday, let's take a walk down memory lane to see how the AGC became what is it is today!
In March 1984, at age 55, Australian Girls Choir Founder Judith Curphey OAM held the first AGC rehearsal with 150 girls in the Melbourne suburb of Burwood. Judith had a dream of starting a choir like no other; she envisaged a choir with a uniquely Australian sound, a choir that dances as well as sings, a choir that would be known for their entertaining performances in Australia and overseas, a choir that would impact the lives of girls across the country in so many more ways beyond learning to sing.
"There was a lot of opposition from the choral fraternity saying choirs don't dance, they sing. That was the main thing that I think captured everybody, because right from day one with those little girls, part of their first lesson would have been to do some movement because I think it just goes hand in hand with good singing."
Judith Curphey OAM
Then                                                                    Now
1 Rehearsal venue                                           32 venues
1 Tutor (Judith Curphey)                               111 Tutors (including 64 alumni members)
4 Classes                                                              200 classes
150 girls (aged 8-10 years)                            6,500 girls (aged 5-18 years)
Since 1984 the AGC has performed at thousands of public events, with millions worldwide embracing our vibrant performances. We've had the opportunity to perform at a large number of iconic Australian events including the Australian Open Men's and Women's Final, the AFL Grand Final, the Melbourne Cup and Carols by Candlelight, and for crowds which have included Audrey Hepburn, Ellen Degeneres, the Dalai Lama, President Obama, Queen Elizabeth II, Oprah Winfrey and Crown Prince Frederik and Crown Princess Mary of Denmark.  We have also had the chance to share the stage with some of the world's biggest stars including Tina Arena, John Farnham, Hugh Jackman, INXS, Ronan Keating, Olivia Newton-John, Pharrel and John Travolta.
Another highlight of the AGC's 35 year history is our ongoing relationship with Qantas which started in 1998 with our involvement in the iconic 'I Still Call Australia Home' advertising campaigns. These campaigns gave many of our choristers the opportunity to perform at some of the world's most beautiful and recognisable locations including Uluru, the Taj Mahal, the Great Wall of China, the base of the Statue of Liberty, and on London's Westminster Bridge.
We are excited that more than 6,500 young women around Australia experience the magic of the AGC every week and we look forward to what the next 35 years will bring!