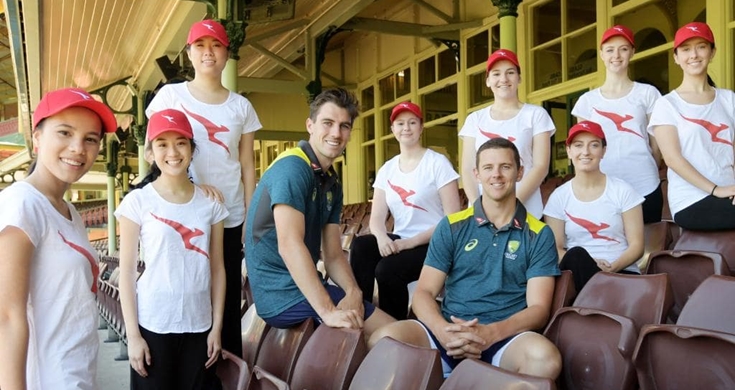 It wouldn't be an Australian summer without cricket and the AGC was honoured to be a part of the pre-match entertainment for the Australian Cricket Team this year.
Over the school holidays, choristers had the exciting opportunity to perform at the start of the Domain Tests against India in Adelaide, Melbourne, Perth and Sydney. The performances were breathtaking and captured the hearts of thousands seated in the stadiums and those watching at home. It was a once in a lifetime opportunity for girls involved performing at the MCG and SCG and at new heights as they sang from the roof of Adelaide Oval and Optus Stadium.
The AGC's involvement in the test series was announced exclusively with News Corp Australia which included an interview with ASPA's CEO Nicole Muir AM and Cricket Australia's Executive General Manager for Fan Engagement, Andrew Everland. Alongside the article, where Everland stated 'the choir resonates with the general public', a handful of Sydney choristers were involved in an exciting photo shoot with some of the Australian players at the historical Sydney Cricket Ground.
To finish the summer of cricket, our Brisbane and Canberra choristers performed at the one-day test series against Sri Lanka. A small selection of Canberra Concert Level girls were involved in the performance at Manuka Oval which was a very exciting way to commence our public performance chapter of our Canberra branch.
The final result of the tests against India wasn't the desired outcome for Australia but the team was able to redeem themselves when they won two tests against Sri Lanka in Brisbane and Canberra.