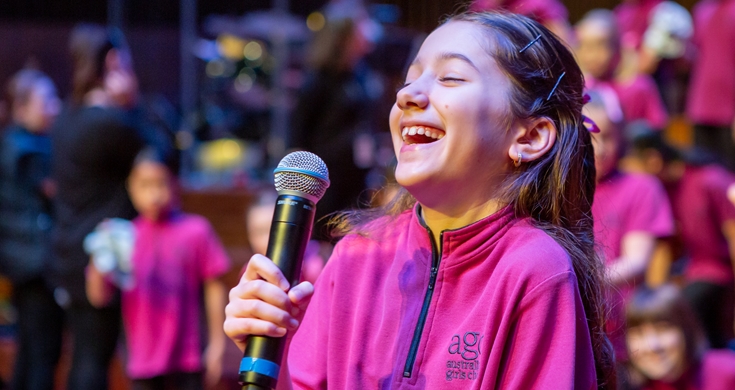 Each year we undertake a thorough selection process to find girls to audition for special parts and solos in our mid-year concert. Special parts can include vocal solos in songs, drama or dance parts, or compering a part of the show. While it isn't possible for every girl to have a special part in the concert, we are absolutely committed to giving all of them an opportunity to develop solo singing and individual performing skills. Towards the end of term 1, Tutors will nominate a small selection of girls from their class to attend a state audition for a special part in the mid-year concert.
We aim to be subtle in our approach to selecting girls as some feel unnecessarily nervous or confronted by the idea of an audition, therefore choristers in junior@agc classes will be assessed during weekly rehearsal activities.
Choristers in Allegro, Avanti, Prelude and Concert Level participate in an In-Class Audition Workshop.  During the session girls are guided through the audition process.  This year we will be holding the In-Class Audition Workshop in the week of March 1 for weeknight classes, and on Saturday March 6 for Saturday classes. Please note that if a chorister is absent during this week, Tutors will hear them during class in the following week.