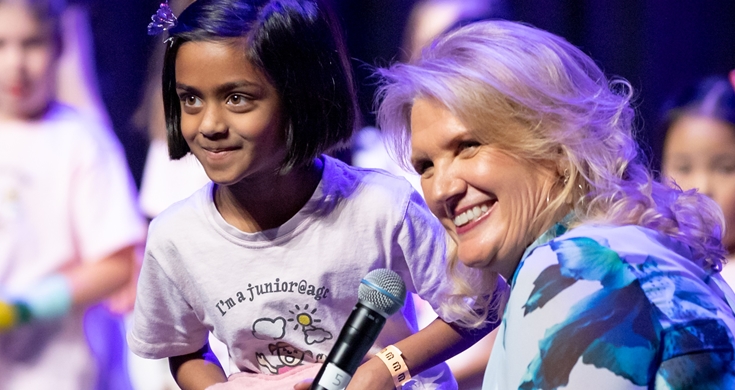 Dear Parents,
2022 has started with a few more bumps than any of us would have liked however we've learned an enormous amount about adaptability and resilience at the AGC over the past two years and feel confident that we can continue to be nimble and flexible as required.  If we can present four concerts in one day involving 1500 girls at a new venue, with four weeks of in venue rehearsals after a semester of live-streamed classes…..then I believe we can cope with the current bumps in the road.
We were over the moon to be able to present concerts in all six cities at the end of 2021 (for the first time since 2019), my smile in this photo says it all and we were touched to receive an overwhelming number of messages of support and congratulations.
"The pandemic means that much activity across society is stopped or reduced, and we could see that AGC is part of this shrinking. But there was no reduction in the pleasure we experienced when hearing the girl's fine voices, the musicality, and seeing the choreography and the abundant enthusiasm that flowed and leapt off the stage. It was wonderful to hear and see the girls achievements in performance under trying pandemic conditions.
It quelled our concerns to see your fine organisation is holding fast and riding the waves of change and uncertainty with positivity and success, certainly with talented people at the helm."
For those of you who are returning, thank you for choosing to continue to be members of the AGC community, if this is your first year with us, welcome.
We are genuinely interested in feedback from longstanding and new parents and girls so we encourage you to make contact with us if there is something you wish to discuss. We naturally enjoy hearing about what works and we are also very interested in knowing about the difficulties parents and girls encounter with the way we run the AGC. We are consistently aiming to improve the management and artistic standard of the choir and regularly review the way we organise events and communicate information.
Please stay informed about all things AGC via the eNewsletters, website, Instagram and Facebook.
For those of you who are yet to learn about other ASPA related activities please do:
■ Check out ASPA Education as we offer a wide variety of programs nationally including: professional development for teachers, music and dance classes in schools and alternative education settings, and also corporate workshops, and
■ Read about Girls from Oz – this is the charity partner to the AGC and is a program in which many of our team members work with, mostly Aboriginal, girls in remote parts of Australia
On behalf of the ASPA Board, I wish all parents and girls a very enjoyable year with the AGC.
Nicole Muir AM
CEO