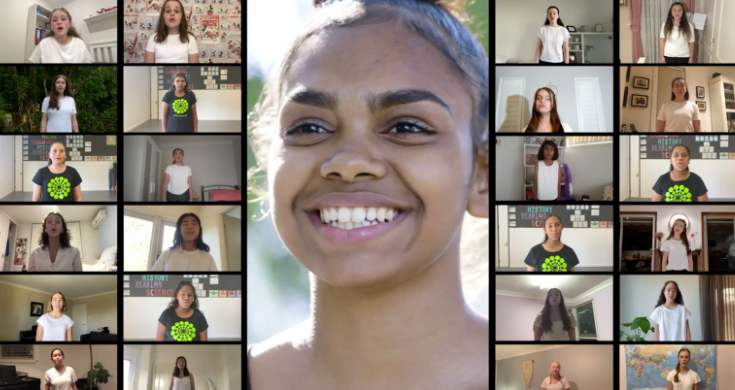 Launching 'Walk With Me' with Girls from Oz
This week, the Australian Girls Choir released a stunning new video collaboration with Girls from Oz that showcases our commitment to reconciliation. The video was created to launch the Girls from Oz 2020 Giving Circles Campaign.
180 girls aged 11 to 17 from across Australia have come together in song to show solidarity for their Girls from Oz (g-oz) sisters in celebration of National Reconciliation Week.
Recorded in bedrooms across the country, the clip features girls from the urban cities of Adelaide, Brisbane, Canberra, Melbourne, Perth and Sydney, and remote communities of Carnarvon, Halls Creek, and Lockhart River. Despite isolation and distance, the girls come together virtually to perform, Walk With Me, a song about courage, strength and connection.
Creating a virtual choir
So how did this incredible video come together?
AGC Performing Choir choristers across all cities were invited to take part in this stunning project. Choristers learned the material in live-streamed classes and donated their time to polish the music at home. They then downloaded a video of our Artistic Director Vicki King conducting the piece so that they could keep time and maintain a consistent feel across their recordings.
Even though the final product is a blended choral sound, to record the track they had to sing at home as a choir of one! Choristers recorded the audio and video of their performances separately and sent it to our Head Office team to get to work putting it all together.
We're fortunate to have an incredible team of talented and creative staff who created the entire video in-house. Our audio team mixed together 180 individual audio tracks and our video team edited together the footage. They also blended in footage from our Halls Creek g-oz girls recording the song at school as well as some beautiful imagery from previous Girls from Oz trips.
The final result is 396 video tracks stacked on top of one another to create the incredible effect of all the girls on screen together.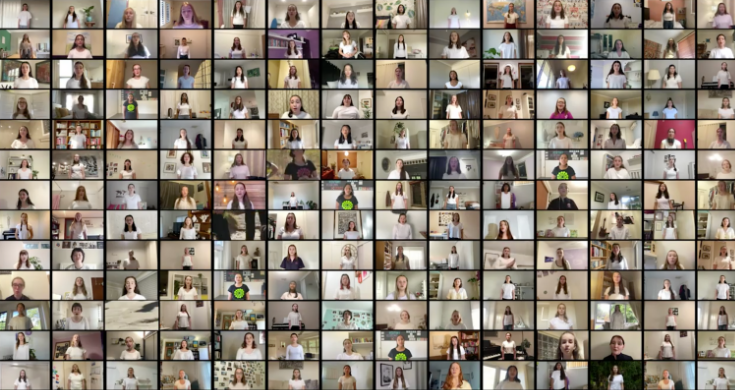 About Girls from Oz
Girls from Oz is the official charity partner of the Australian Girls Choir. Believing in the power of the performing arts and driven by a desire to find ways to improve educational and employment outcomes for girls in remote and regional Australia, g-oz was formed to empower girls to engage in their education and imagine a bright future including further study and careers.
CEO of the Australian Girls Choir and Girls from Oz Chair, Nicole Muir AM, is passionate about working with families and educators to grow girls into strong and confident women.
"These are our daughters, Australia's daughters; they are future mothers and future leaders. It's essential for them to understand each other's lives and work together to create intergenerational change." Nicole Muir AM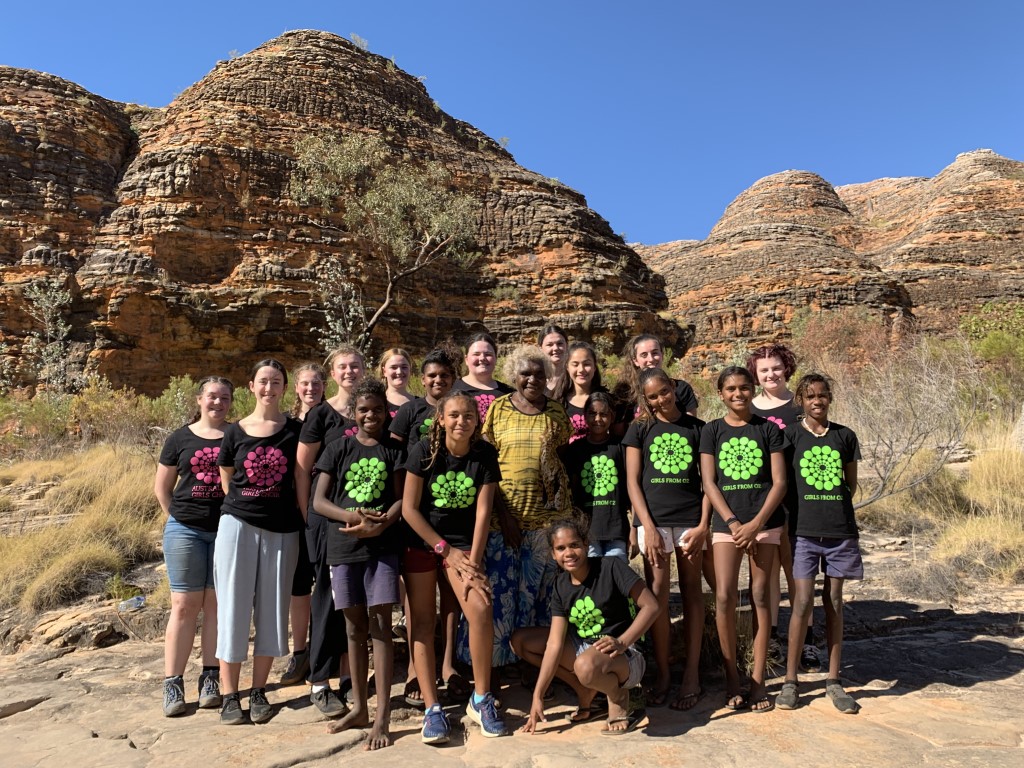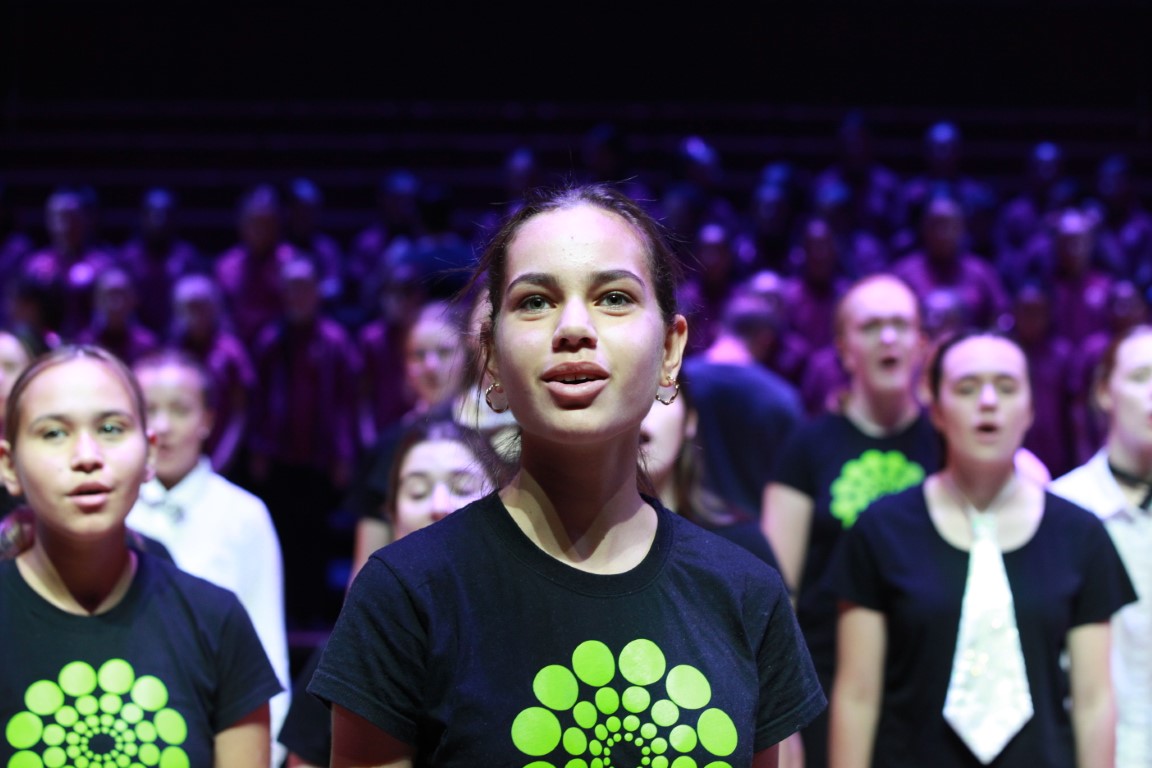 2020 National Reconciliation Week theme 'In This Together'
The relationship between the AGC and g-oz embodies the 2020 National Reconciliation Week theme, In This Together. Two way learning is at the heart of the program as g-oz provides opportunities for city based girls to learn about Aboriginal culture and life outside of metropolitan Australia.
We hope you'll walk with us to help Girls from Oz raise $20,000 by June 30, 2020 and have a further $20,000 committed in monthly donations to fund g-oz's life changing programs for Aboriginal and Torres Strait Islander girls living in remote Australia.
Donate Now
To support Girls from Oz as they inspire girls to step away from welfare dependence to lives filled with opportunities go to Give Now: www.givenow.com.au/girlsfromoz
Watch the 2020 Giving Circles Campaign video 'Walk With Me'