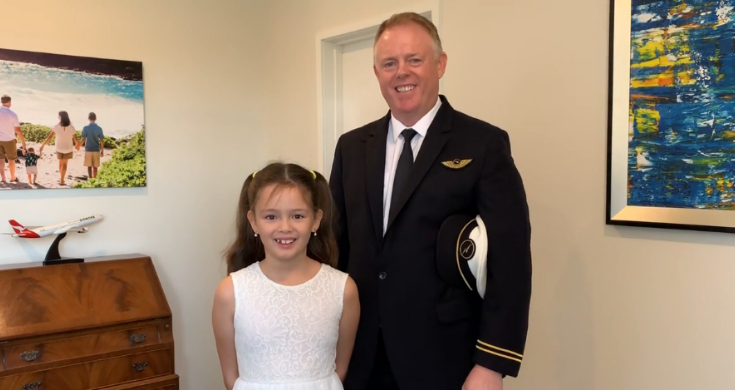 AGC families represent the 'Spirit of Australia'
70 AGC choristers were thrilled to be featured in the Qantas Virtual Choir campaign launched on Mother's Day across Qantas' social media channels. Filmed in lounge rooms and backyards across the country, the clip saw members of the Australian Girls Choir perform a stirring 'virtual' rendition of I Still Call Australia Home.
You've probably seen the many television commercials we've filmed with Qantas, but what you might not know is just how many members of our AGC community share special ties with the Qantas family. Since the clip's launch last Sunday, we have loved hearing from so many Qantas-employed AGC friends and family right across the country from Piccolo to Performing Choir!
This week we're spotlighting some of our very special AGC/Qantas families to find out what the 'Spirit of Australia' means to them.
Olivia (Brisbane Avanti) and family friend Patrick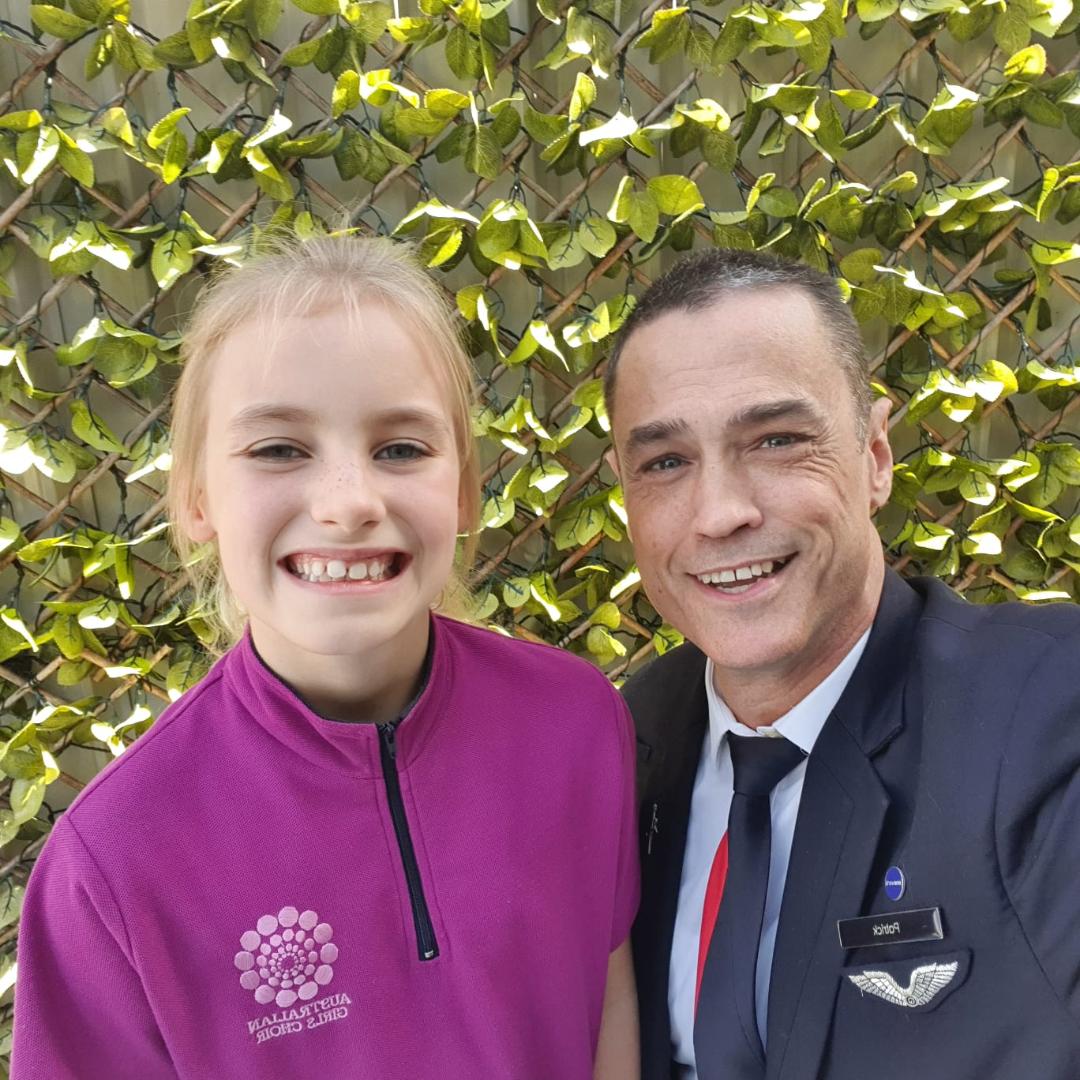 For International Flight Attendant, Patrick, "the Spirit of Australia is about being genuine and optimistic. It's believing in a multicultural society where everyone is welcome". Patrick has been part of the Qantas family for 18 years, while Olivia joined the AGC 3 years ago and adores it. "Singing is like my dream for when I grow up. I am going to be in AGC for all the years possible!"
Sofia (Melbourne Performing Choir) and mum Cheri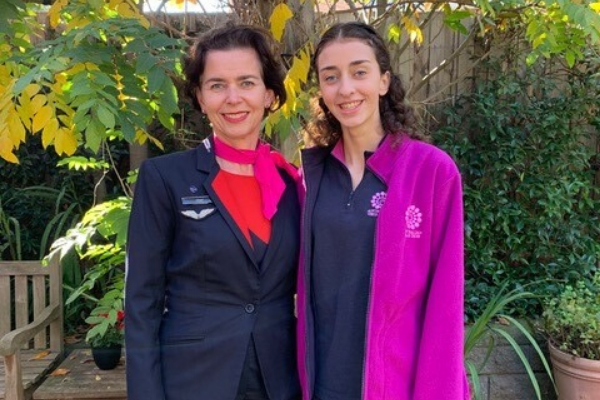 Cheri has been flying from Melbourne to locations far and wide for 27 years as an International First and Business Class Flight Attendant. She has experienced firsthand "the unique way Australians connect with people the world over". For Cheri, the Spirit of Australia represents "our friendliness, sense of adventures and willingness to help each other".
When Sofia reflects on her nine years in the AGC, she says her favourite thing about choir has been "the wonderful relationships I have made over the years and working my way up to Performing Choir".
Erin (Canberra Prelude) and dad Matt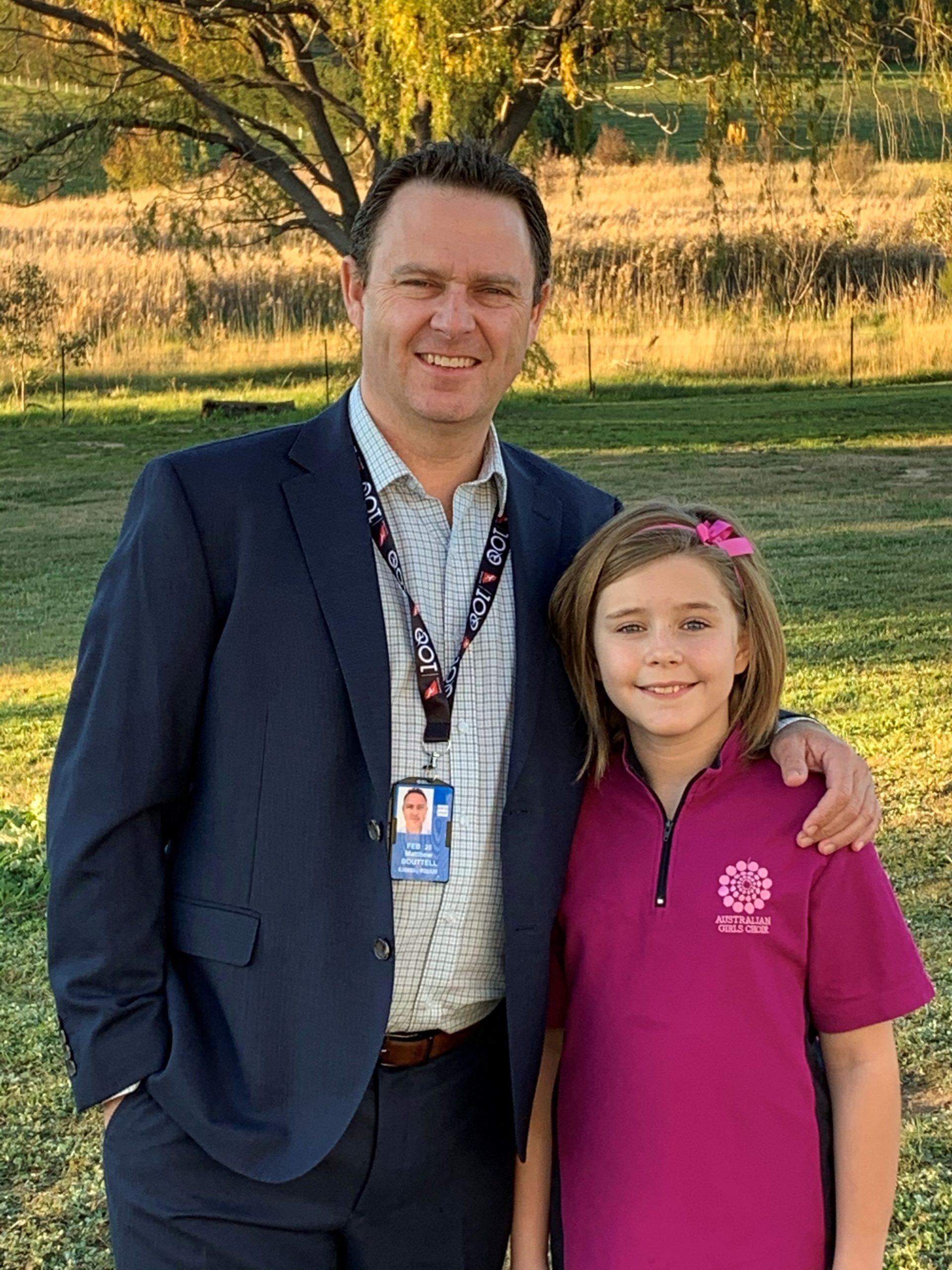 Matt joined Qantas in 1991. His current role is Manager Air Traffic Management. Erin has been in the AGC for almost 18 months. Her favourite things, without doubt, are the performances! She can't wait to return to her Prelude and Canto classes when it is safe to do so.
"In speaking about the Spirit of Australia together we agreed it's the vastness of Australia's open spaces and images such as the outback including Uluru, red dirt and kangaroos. We also think it's about kind, nice people that are welcoming with a sense of familiarity."
Mackenzie (Sydney Avanti) and dad Tom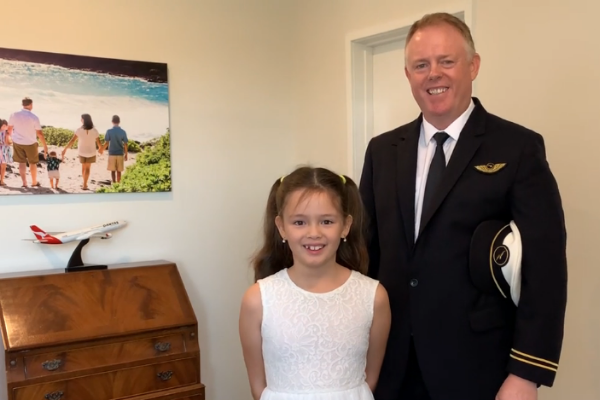 Tom has been a long-haul pilot with Qantas for 12 years. For him, "the Spirit of Australia is a sense of belonging to a community that is both diverse and multicultural, where everyone can have a fair go, work hard, enjoy life, live in peace and stand up for those less fortunate." Mackenzie has been a member of the AGC for three years and loves performing on stage at the Annual Concert each year.
Proudly capturing the 'Spirit of Australia'
The AGC has been proudly capturing the 'Spirit of Australia' for Qantas since 1998. We are delighted to have involved many thousands of our girls in the filming of the spectacular I Still Call Australia Home television advertisements, and in hundreds of live performances for Qantas both internationally and at home.
While we find ourselves in strange times that preclude us from flying to visit family and explore new parts of the world, we feel fortunate for the strength of our AGC community and that technology has allowed us to stay connected and even perform on the world stage.
Stay tuned for Part 2 where we introduce you to four more of our gorgeous AGC families.