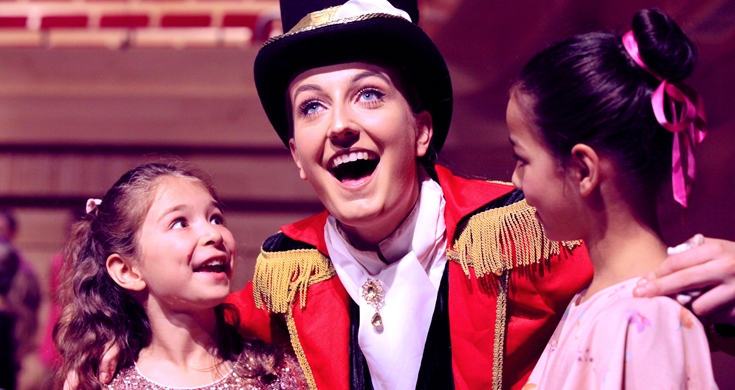 Singing and so much more
Parents regularly comment that they initially chose to include the AGC as part of their daughter's education because of the outstanding performing arts education we are known to provide, however they were unaware how much their daughter would grow 'off the stage' as a member of the AGC.
Girls blossom musically and socially as members of the AGC and we adore watching our choristers grow from little girls into confident young women over their years at the choir. Our weekly classes provide an opportunity for girls to explore and develop their creativity and musicality in a fun, encouraging, non-competitive and inclusive environment which leads to the development of confidence, resilience, presentation and performance skills.
Have your daughter leap into 2022 with the fun and excitement of AGC! Read more about her involvement below and sign up to try a free class at Open Day.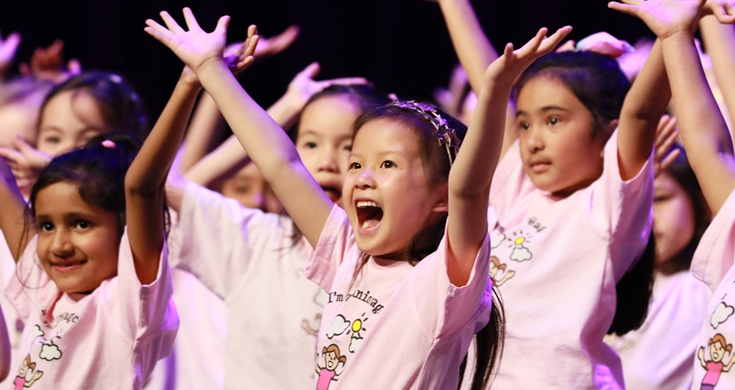 Improving her sense of happiness and wellbeing
Singing has well-known wellbeing benefits, as it decreases stress, releases endorphins and boosts positive emotions. Research has found that people feel more positive after actively singing than they do after passively listening to music and has also been shown to develop children's ability to regulate emotion, through self-expression and connecting with song lyrics
"From the moment our daughter joined choir 7 years ago we have been so impressed with the staff and the program. She has been treated as an individual, been nourished in so many other ways than just musically and we just find that we can trust each and every staff member implicitly with our daughter's wellbeing. It's worth every penny to see her beaming after rehearsals each week and watch her incredible confidence each time she steps onto the stage in concerts." Louise Miles
 "My daughter loves to sing. It's the one thing that always makes her happy. I firmly believe that her many years of involvement in the choir have been important for her emotional and psychological well-being. She has made strong friendships with girls outside of school that has provided her with balance and the experiences she has had or being part of a 'team', all having to work together to produce high quality performances has given her a sense of purpose, belonging and pride. Without the choir I think that the teenage years would have been much more fraught for both of us! "Sydney Parent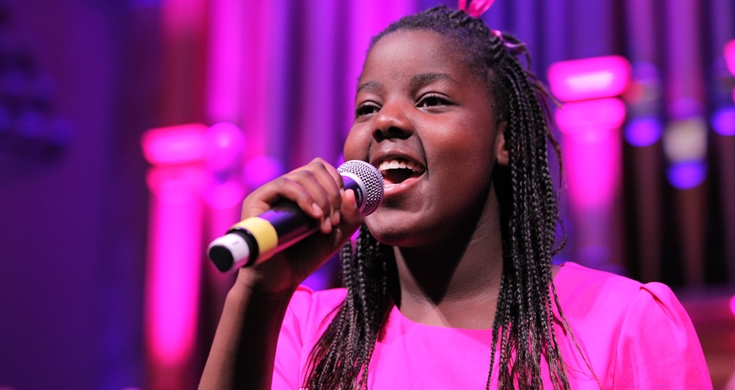 Growing musically and developing presentation skills
The founding philosophy at AGC is that every child can learn to sing given encouragement and training. Our dynamic and inclusive curriculum is designed to cater to varying abilities and confidence levels as they progress through the choir.
"We have been involved with the choir for over ten years now, and have always been impressed by the extraordinary quality of this organisation. From the excellent music, dance and drama education (which is presented in such a fun and engaging way that it doesn't even feel like learning!), to the impeccable standards of communication and care, we couldn't imagine better! I'm so glad I found AGC – it has provided my girls with such amazing and life-changing opportunities, and I am beyond grateful to you all!" Kate Wakelin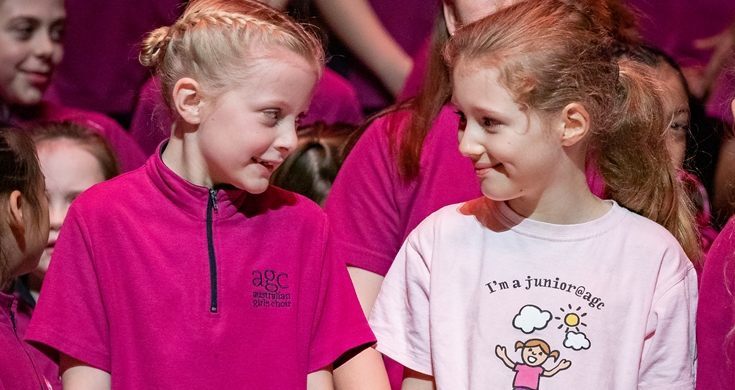 Having fun and make new friends
AGC is a place where your daughter will come together with other like-minded girls to sing, laugh and grow together in her weekly lessons. Girls know they belong to a dynamic group of girls with shared interests and goals, which often results in lifelong friendships being formed.
 "AGC has been a staple of Jordan's life for 12 years next year will be her 13th and final year. It gives her an artistic outlet separate from her mainstream life and has provided her with a friendship circle of likeminded girls away from the peer group pressure of school. She has always said that at AGC you can be you with no judgement and that everyone lifts those around them to be the best they can be." Leonie van der Molen
"We're from Japan. My daughter couldn't speak English well and didn't want to make friends when we moved to Australia. But thanks to AGC, she gained confidence, made so many friends and now she loves to live in Melbourne!"  Mayu Tomaru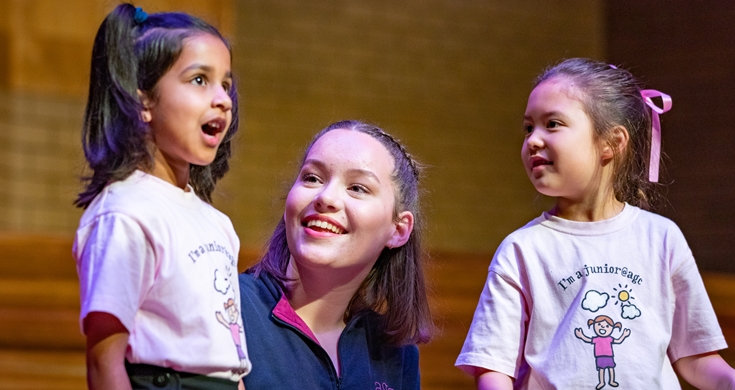 Positive role-modelling from the 'big girls'
Our focus on mentoring and role modelling is an aspect of our program that sets us apart from similar organisations. Our senior choristers become positive and aspirational role models to our junior choristers, who delight in learning from the more experienced performers.
"After 3 years, my teen still comes home absolutely buzzing after weekly practice, and she looks forward to preparing for the concerts. She also relishes the additional responsibilities she has as a Concert Level Leader, which develop her team skills and increases her connection with the girls."  Brisbane Parent
Parents comment on how rewarding it is for their daughter to develop values such as commitment, perseverance and self-discipline from positive and responsible role models.
"When I was a younger chorister I remember looking up to the 'big girls'. I didn't realise then, but the things that I was idealising was their hard work, their ability to keep going and keep pushing and try new things. To be brave and put themselves out there. And I wanted to be just like that." Rebecca Sabatino, AGC Alumni
Experience the AGC in action at Open Day
We are delighted to invite girls who are at school in 2022 to try a free class at our February Open Day!
Join us for a complimentary class, meet our lovely tutors and experience what it's like to be a part of the Australian Girls Choir. Attendance is free but places are strictly limited. Registration essential to attend.
For further details about Open Day, venue locations and class timetables, please see our Open Day page.
juinor@agc… a very good place to start