The Australian Girls Choir was delighted to accompany Hugh Jackman live as part of Jackman's World Tour of The Man The Music The Show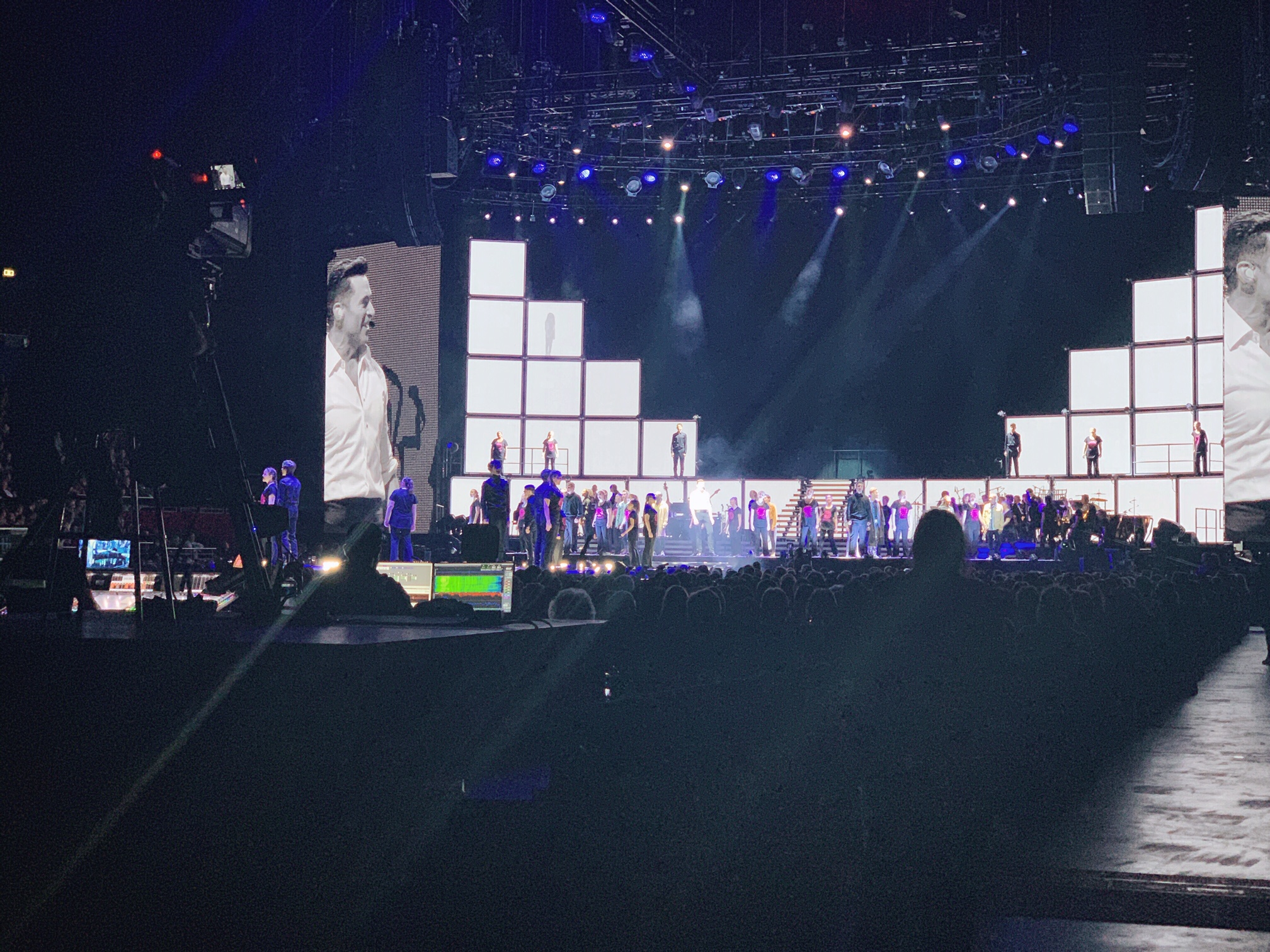 This month the AGC Performing Choirs performed for audiences of tens of thousands in five cities across Australia alongside Academy Award nominated and Golden Globe and Tony Award-winning performer, Hugh Jackman. This incredible opportunity was part of Hugh Jackman's World Tour of The Man The Music The Show, which saw Jackman perform hit songs from The Greatest Showman, Les Misérables and other Broadway musicals, accompanied by a live orchestra and members of the Australian Girls Choir.
Our girls were thrilled that Keala Settle made a special guest appearance, performing "This Is Me" from The Greatest Showman, which our Sydney choristers sang alongside Settle at the launch of Hugh Jackman's World Tour in February this year.
Our choristers are absolutely buzzing after performing with Hugh Jackman live at the Qudos Bank Arena, Sydney, Adelaide Entertainment Centre, Rod Laver Arena, Melbourne, RAC Arena, Perth and the Brisbane Entertainment Centre.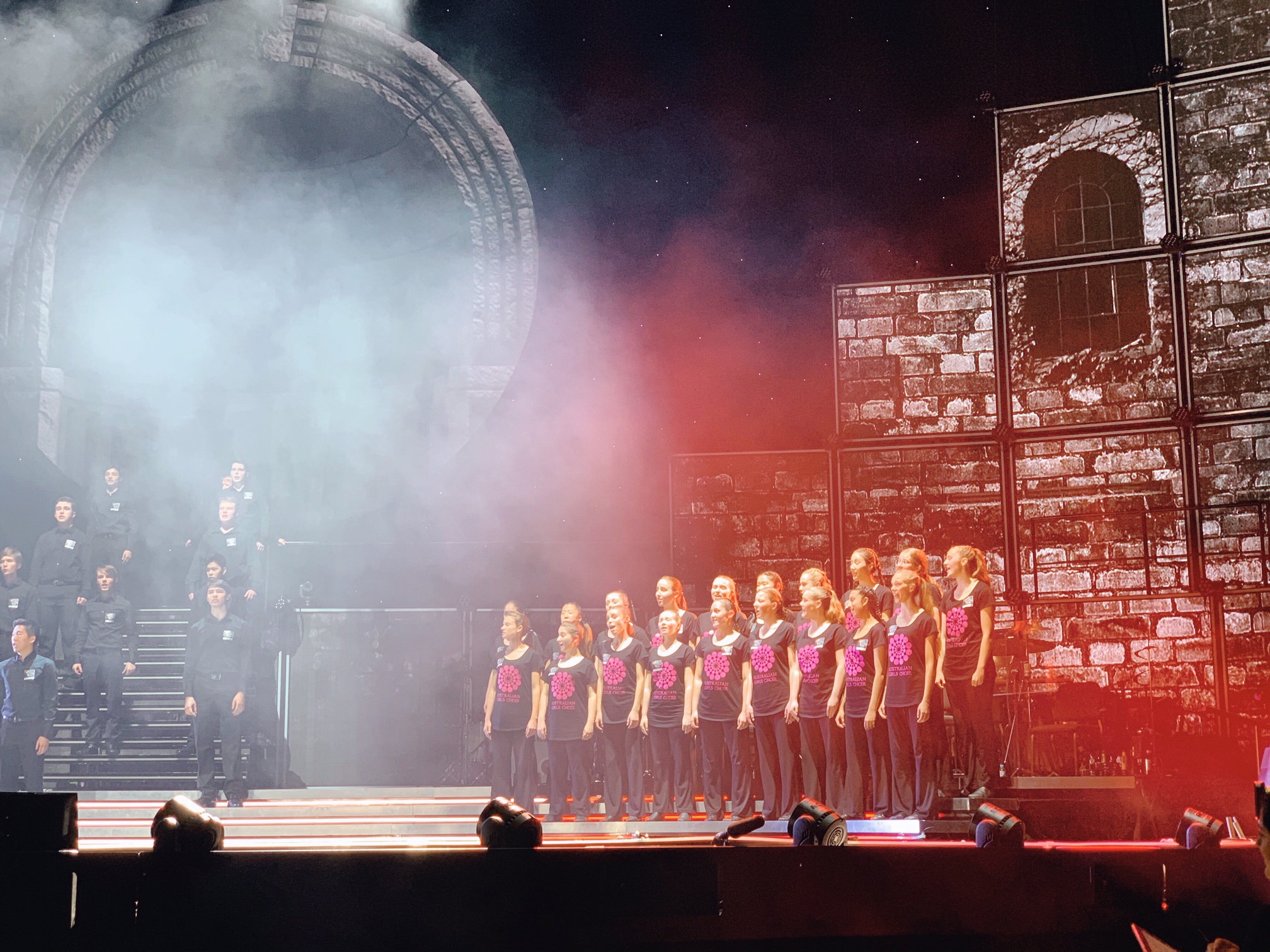 Speaking about the experience in their own words.
Last week, two of our senior choristers Jana Muldoon and Olivia Giameos spoke with Sonya Feldhoff on ABC Radio about their experience performing live with Hugh Jackman.
The girls spoke about needing to keep the appearance in the event strictly confidential.
"[It was hard to keep a secret] because it was something that I was so proud of. Being able to perform with Hugh Jackman," shared Jana.

Olivia echoed the excitement, "Obviously you want to tell everyone. We were so lucky because a lot of our really, really close friends are from the choir, so we did have that opportunity share that excitement."
It's a joy to be able to make opportunities like this one available to our most senior girls. We were so immensely proud of the girls' on stage performances as well as their professionalism back stage. Every person who interacted with them found them to be highly professional.
"It was such an amazing experience. Seeing the quality and professionalism of Hugh Jackman and all of the people he worked with. [They] were so friendly and at such a high level. I think it really inspired us to rise to that to try to fit in with them." Jana Muldoon

"He basically said to the girls on the first night, 'I know you've learned all of the staging and you've learned all of the songs, but forget all of that and have a great time.'" – Emma van Kekem, Music and Production Coordinator.

"On the first day he came and spoke to us and gave us a lovely pep talk. It really raised our energy for when we did perform… It was just making the most of being there with him and everything he had to say." Olivia Giameos
We are so honoured to nurture girls from their very first singing class through to exceptional performance opportunities on the world stage. Not only do we see young women blossom musically in the choir, but grow in maturity and professionalism as a result of performing in such high profile productions.
We are sure these performances will create significant and lasting memories of the power of live music, and be treasured by girls across the country for years to come.
Listen to their full interview with Sonya Feldhoff on ABC Radio.
Keep your eyes peeled on our social media as we'll be posting all of our images from the event early next week.
There's always exciting opportunities coming up!
If your daughter is primary school aged and you're interested in having her enrol in the choir, where she might audition for performance opportunities like this one, you can find all of the information on our Enrolments Page. We're always looking for creative and musical girls to join, and love welcoming new girls into the Australian Girls Choir.