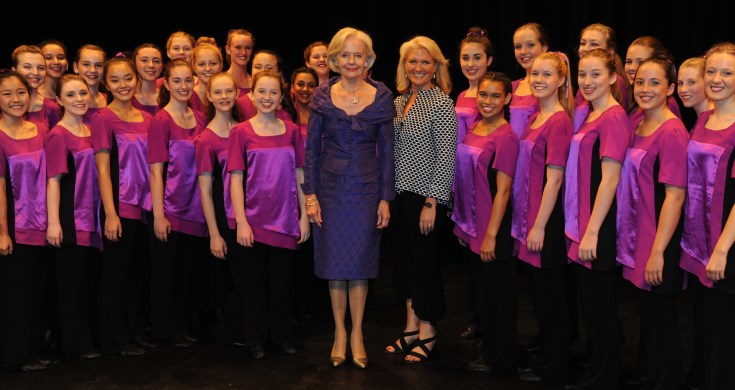 As part of Women's History Month we'd like to recognise and celebrate the achievements of an inspirational woman who has been a pioneer in Australian politics, and embodies so much of what we value here at the AGC.
Dame Quentin Bryce AD CVO is an Australian lawyer, educator, former politician and the first woman to serve as Governor-General of Australia from 2008–2014. From a young age Quentin knew she wanted to change the world, and her dedication and passion for education were the tools she would use to do so. Paired with the gift to listen, understand and connect with people, she became a representative for the forgotten voices that had often never been heard by the powerful.
It was at our 2004 Annual Concert that we had the pleasure of meeting Quentin, and quickly learnt that we share many key values. She believes in the benefits of the performing arts and was keen to learn more about the development and mission of our charity partner Girls from Oz. Quentin is now patron of Girls from Oz and has supported us in many ways over the years; hosting g-oz participants for a sleepover at Admiralty House, visiting our g-oz programs in Halls Creek and Longreach, and attending AGC concerts which have featured performances by g-oz girls.
We are thrilled to have women like Quentin inspire our choristers, and girls everywhere, with the message that they can do anything and be anything, if they put their mind and heart into it.
"I felt so proud of you and the girls from oz and inspired again by the marvellous work you do in remote areas. I know how much planning, creativity, energy, professional skills, love and compassion went in to the Halls Creek children and their community. My involvement with the Australian Girls Choir brings delight and support to my life and to thousands of Australians. Please pass on my congratulations and gratitude to all involved in a memorable and important special occasion. The girl talk was magic! Thank you" – Dame Quentin Bryce AD CVO