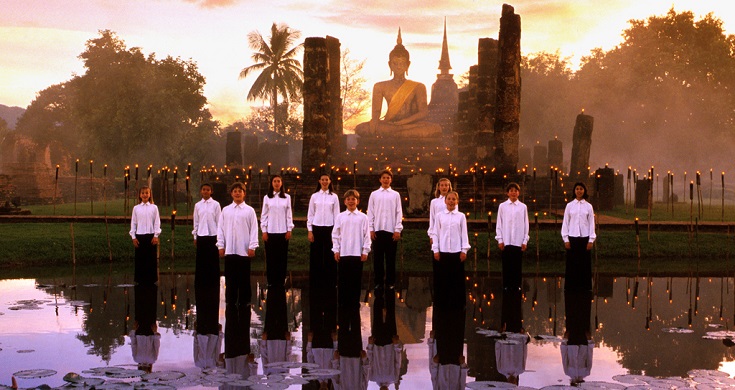 This year we celebrate 20 years since the launch of the Qantas 'I Still Call Australia Home' advertising campaign, which captured the hearts of Australians all over the world.
On the 5th of January 1998, ASPA CEO Nicole Muir received a call from Singleton Advertising regarding the possibility of combining the voices of the Australian Girls Choir and the National Boys Choir for a client's advertising campaign. Just eight months later, on the 10th of September 1998, the Qantas 'I Still Call Australia Home' advertisement aired for the very first time during the Opening Ceremony of the Commonwealth Games.
This was the beginning of what has proven to be a long and continuing relationship between the AGC and Qantas. The highly acclaimed campaign saw choristers from both choirs singing in staggeringly beautiful destinations including temples in Thailand, the Brooklyn Bridge in New York, and the Great Wall of China. The final shot of the first campaign involved 220 choristers transported in and out of the Northern Territory's Kings Canyon by helicopters to film the breathtaking conclusion to the advertisement at sunset.
Between 1999 and 2009 the AGC was involved in filming four more advertisements for Qantas. Choristers travelled to incredible locations including a Maasai village in Africa, the Taj Mahal in India, the Terracotta Warriors in China, the base of the Statue of Liberty in the USA, Westminster Bridge in London, and Uluru. A particular highlight of each of the campaigns is the final shot, involving hundreds of choristers. It's a common misconception that these shots were created digitally, but in fact, every one of the choristers in these advertisements was really there – as many of our AGC Alumni can attest!
Five campaigns and twenty years later, the AGC is delighted to still enjoy a wonderful relationship with Qantas, performing at major events around the country each year as well as having represented Qantas for many years at 'G'Day USA' Australia Week.
The AGC wishes Qantas a very happy 20th anniversary of the launch of what became one of the most iconic and critically acclaimed advertisements in Australian history. We're looking forward to representing Qantas at many events into the future.