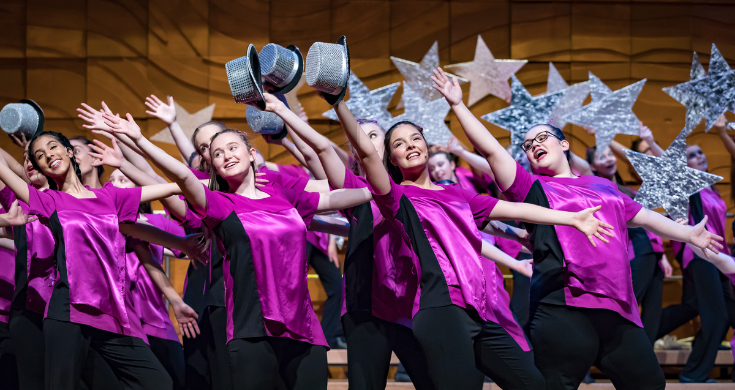 AGC Alumni reaching for the stars

Every year the AGC plays a role in helping thousands of girls develop their skills as a performer and musician, but ultimately, the AGC helps girls grow into confident young women.
It's true that not every AGC chorister wants to pursue a career in the performing arts, however many AGC choristers have transformed their passion for singing into a flourishing career in the spotlight. For professional Opera Singer Helena Dix, and Music Theatre performer Stefanie Caccamo, growing up with the AGC was their first formal foray into the performing arts and laid the foundations for a future career on stage. While the AGC's world-class musical education developed the technical skills of these women, it is the AGC's 'hidden curriculum' that these women reflect on as contributing to their musical success. Experience the AGC for yourself at at our November Open!
Helena in Melbourne Opera's 'Norma', 2019, credit Robin J Halls
Growing up with the AGC
From an early age, singing was Helena Dix's "entire life", and the musical education she could get from school never felt like it was enough. By joining the AGC, Helena filled that void, giving her the opportunity to do the activity she loved with other like-minded girls.
"Becoming a part of the AGC family was like finding my people. Surrounded by beautiful music, harmony and new friendship. I learnt to be disciplined, to work as part of a team." – Helena Dix, AGC Alumni
The passion for Helena was always there, but it was the AGC's high-quality training that allowed Helena to develop her vocal skills, musicality, musicianship and performance skills, forging a clear pathway to a future career in the performing arts.
"I always appreciated how high the standard was, it made me want to be the best singer I could be, in an encouraging environment alongside some of my favourite people." – Helena Dix, AGC Alumni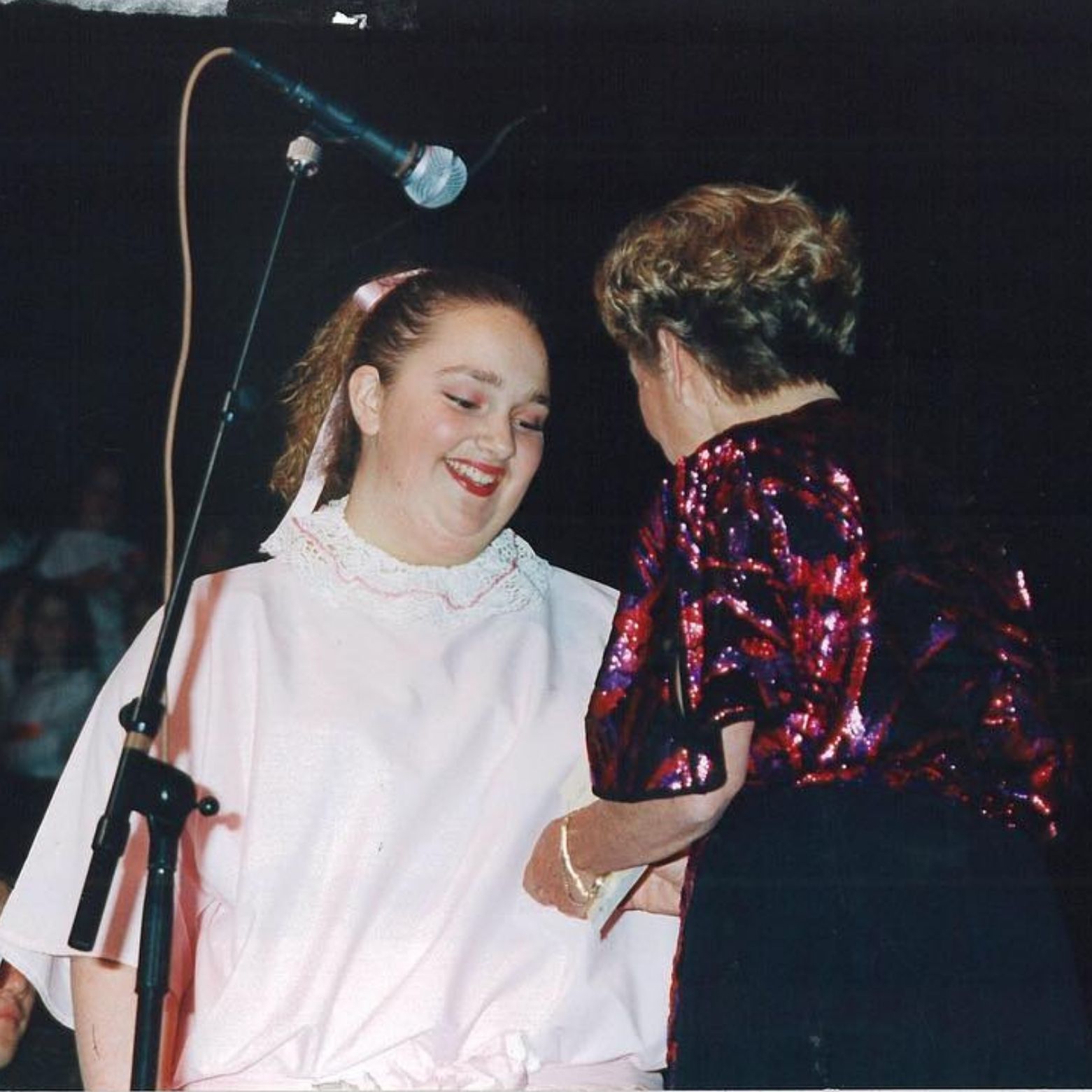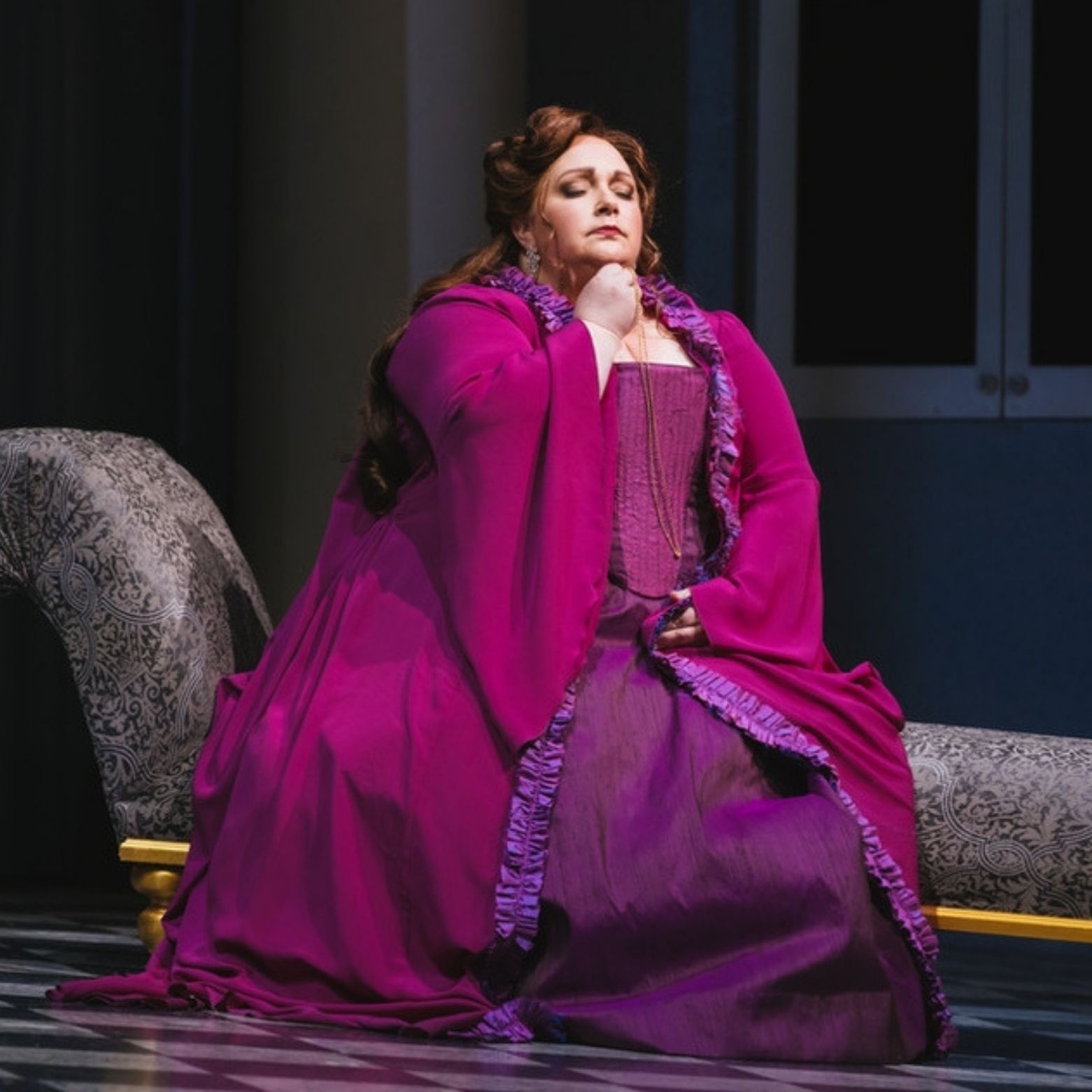 1) Helena with AGC founder Judith Curphey OAM, 1993 2) Helena in Seattle Opera's 'Le nozze di Figaro', 2022, credit Philip Newton
Similarly, in 2004 at the age of eight, Stefanie Caccamo walked into her first AGC class, blissfully unaware that this moment would shape her future.
"Singing in the choir made me a better musician – I learned to read music, to sing in four-part harmony and it gave me the courage to sing solo" – Stefanie Caccamo, AGC Alumni
During her time at the AGC, Stefanie Caccamo opened her eyes to a world of opportunities and experiences that not many school aged girls would ever dream of.
"I often speak to others about my 10 years in the Australian Girls Choir and reminisce on all of the incredible opportunities that the choir provided me like singing at Hugh Jackman's 40th birthday, singing for President Barack Obama, for Queen Elizabeth II – I mean, WHAT!? Who gets to say that!?" – Stefanie Caccamo, AGC Alumni
Stefanie (fifth from right) performing with AGC at Parliament House, Canberra, 2016
Singing and so much more
Developing the musicality and performance skills of our choristers is at the forefront of AGC's curriculum, and is why so many parents choose the AGC as part of their daughter's education. However it is often the benefits of our 'hidden curriculum' which focusses on building the confidence, self-esteem, discipline, social skills and leadership of our choristers that parents and Alumni, like Stefanie, continue to marvel at when reflecting on their time with the choir.
"The choir is about more than just singing… it is about community and friendship. Sharing and connecting through our mutual love for music and forging lifelong relationships. I can honestly say that I wouldn't be the person or performer I am today without the AGC, without the guidance and support of the incredible tutors and staff." – Stefanie Caccamo, AGC Alumni
1) Stefanie at Sydney Annual Concert. 2008 2) Stefanie today
The AGC's focus on role modelling and mentoring is an element of our program that we pride ourselves on and sets us apart from similar organisations. The breadth of ages in the choir ranging from Foundation to Year 12 lends itself naturally to creating a space where our youngest junior@agc choristers and Training Level choristers, can look up to our Senior Performance Groups. The opportunity to perform at events, as well as tour with the AGC nationally or internationally, means our senior choristers are visible to our younger ones, and sets an excellent standard for them to work towards during their time in the choir.
"I looked up to the older girls, strived to join them in touring the globe and singing on the TV. My love for singing grew as I saw the world through the eyes of our tours – learning the discipline of performing every day, seeing various cultures and growing up along the way." – Helena Dix
Stefanie in Darlinghurst Theatre Company's 'ONCE', credit Robert Catto
Pursuing a career in the spotlight
Growing up with the AGC transforms even the shyest of girls into confident young women who have the ability to proudly use their voice, whether this be in the classroom or on the world stage like Helena Dix. With her exceptional vocal talent and strong work ethic, Helena was awarded scholarship after scholarship to pursue her studies, firstly at the Melba Memorial Conservatorium of Music in Melbourne, followed by the Royal Academy of Music in London. Since graduating from her post graduate studies, Helena has secured her name in leading roles on operatic stages around the world, with her most recent credits including the title-role Norma at the Metropolitan Opera (NYC); Le Nozze Di Figaro with Seattle Opera; the title-role Maria Stuarda, the title role Lucrezia Borgia and Lady Macbeth in Macbeth with Melbourne Opera; La Clemenza Di Tito with National Opera, Canberra; and The Turn of the Screw for Garsington Opera (UK).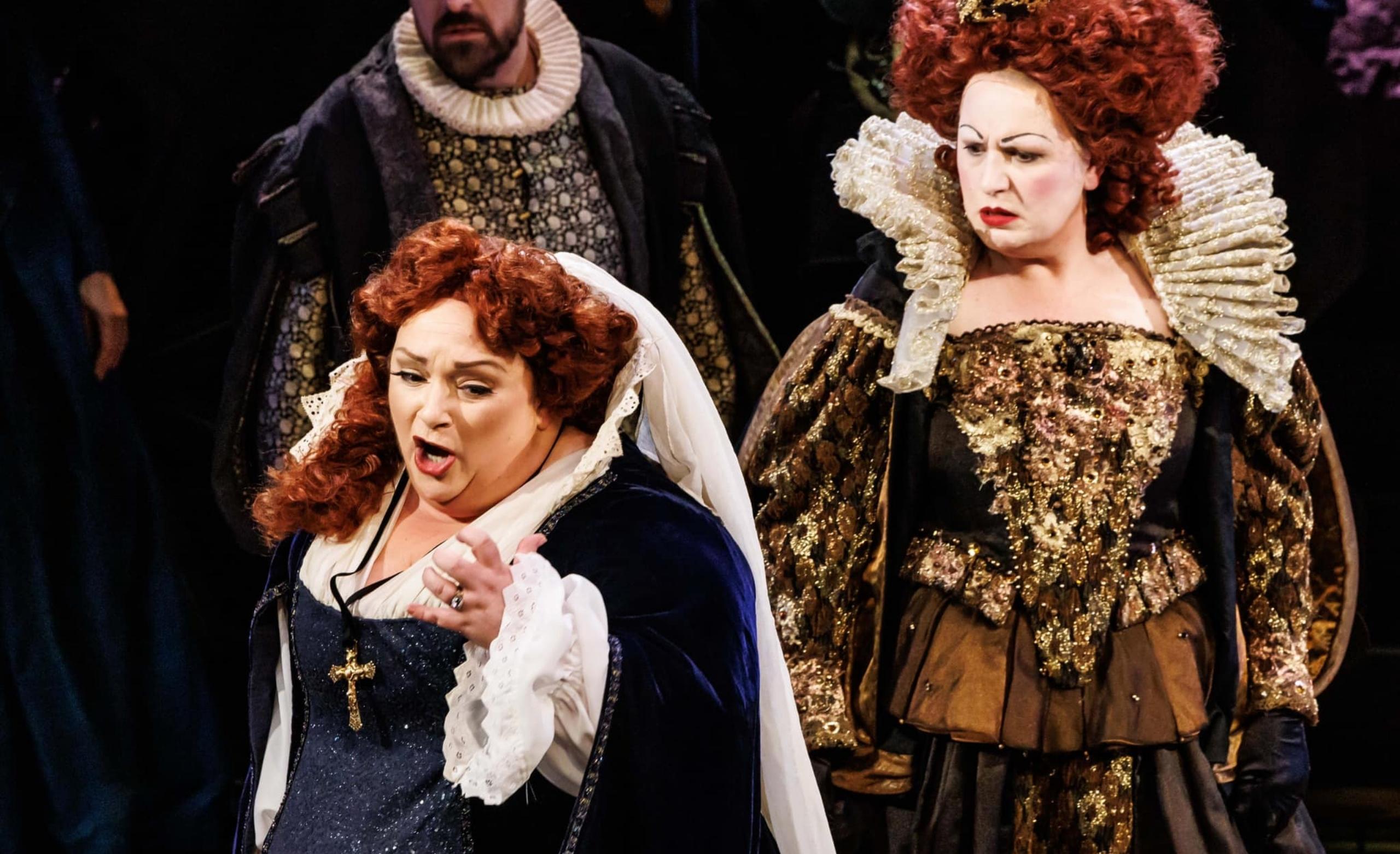 Helena in Melbourne Opera's 'Maria Stuarda', 2023, credit Robin Halls
After graduating in Sydney, Stefanie courageously auditioned for the highly renowned Music Theatre course at the Western Australian Academy of Performing Arts (WAAPA) where she was accepted and moved to the opposite side of the country at age 18. Like many passionate choristers, Stefanie chose to continue her journey with AGC as a Tutor alongside her studies, using her own positive experiences to help build an appreciation and understanding of music in the next generation of choristers, and most importantly, grow into the best version of themselves.
"My experience with the AGC holds a very special place in my heart and will remain with me forever." – Stefanie Caccamo, AGC Alumni
Stefanie's professional credits include Beautiful: The Carole King Musical; Hair the Musical; Into the Woods; 'Godspell; and most notably, the titular role of 'Girl' in Once. Stefanie will also make her small screen debut this year in season two of Foxtel/Binge's The Twelve.
Experience the transformative power of the performing arts
The success stories of these women are only two out of the tens of thousands of stories from women who have grown up with the AGC as part of their education. Whether your daughter has untapped musical potential or needs a nurturing environment for her confidence to sing, the AGC truly is "a very good place to start". Girls are encouraged to try a free class at Open Day before joining the choir to experience a taster of what it's like in a typical class. Start your next chapter with the AGC in 2024 and register now!