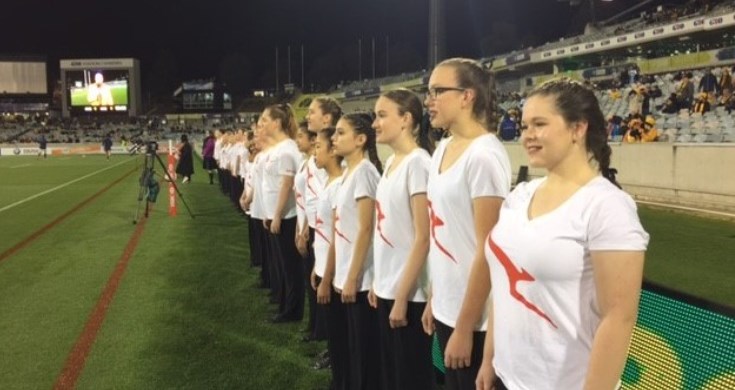 Our choristers have had an amazing time entertaining thousands of rugby fans across the country, singing on the field for the Qantas Wallabies.
Kick-starting the rugby series at Allianz Stadium in August, our Sydney Performing and Camerata choristers opened the Wallabies V New Zealand Bledisloe Cup with the Australian National Anthem and an uplifting rendition of 'I Still Call Australia Home'.
A month later our Perth choristers performed beautifully at Nib Stadium, for the Wallabies V South Africa game, and last weekend our Sydney choristers headed south to entertain fans as the Wallabies took on Argentina in Canberra.
It's the AGC's seventh performance on behalf of the Qantas Wallabies this year and we're looking forward to our eighth when our Brisbane girls will take to the field on Saturday October 21 to sing at the final match of the Wallabies V New Zealand 2017 Bledisloe Cup. Good luck girls!