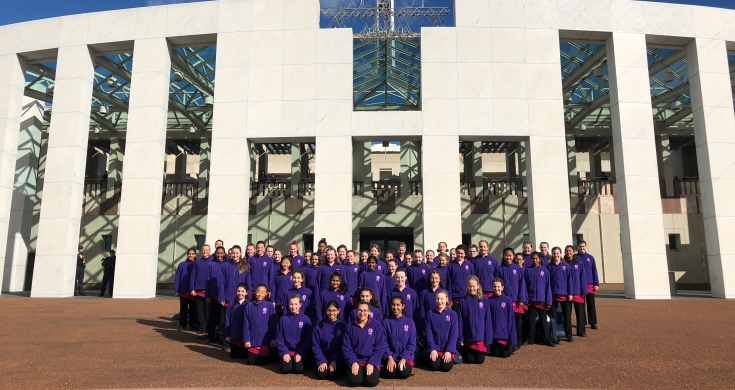 Fifty-six Choristers from Adelaide, Brisbane, Melbourne, Perth and Sydney just arrived back home from a spectacular twelve show tour.
The choristers practiced separately in their own states before coming together for two days to learn their choreography and add the final details to their repertoire. Over two weeks they shined on stage in Canberra, Nowra, the Blue Mountains, Wagga Wagga and Sydney.
Throughout the tour, choristers performed on 12 different occasions. Some of the highlights included a performance at Parliament House, a sell out crowd at the Blue Mountains Theatre and a moving performance at the Australian War Memorial. They also had the opportunity to lead workshops with children from local schools and choirs.
"A fantastic opportunity to learn from the highly polished, motivated and friendly group of young ladies. A valuable experience for us all – kids and mentors." Judy Hudson – Member of the Academy Singers and Blue Mountains Youth Choir Volunteer.
As well as perfecting their performances skills, our National Tour choristers increased their self-confidence, boosted their self-esteem, became more independent and  have improved time management skills as a result of performing and travelling in a group. Our next tour will be departing later in the year where they will be visiting Marostica, Venice, Vienna, Graz and Hong Kong.