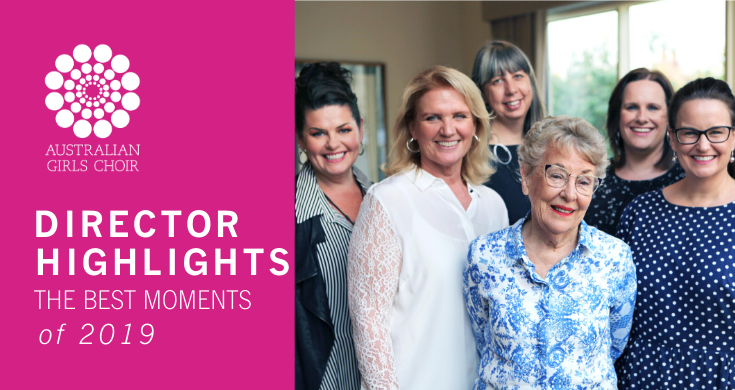 What a year it's been at the Australian Girls Choir! We had 6473 choristers enrolled, 7525 music classes run, 215 total choir groups, 18 Annual Concert performances, 134 Christmas Carols gigs, 1 International Tour, 1 National Tour and 1 Girls from Oz Tour… and so much more happening both on the stage and behind the scenes.
We asked our ASPA Company Directors to reflect and share their highlights for 2019 and celebrate some of the incredible milestones accomplished by our choristers and staff at the Australian School of Performing Arts this year.
Nicole Muir AM
CHIEF EXECUTIVE OFFICER
Celebrating Judith's 90th birthday in Paris with the AGC Touring Choir.
I've had the privilege and pleasure of working with AGC Founder, Judith Curphey, for 25 of the 35 years that the choir has existed. A highlight of this year was celebrating Judith's 90th birthday in Paris in September.  It was initially a dream to make this happen while the touring choir was in Judith's favourite city in the world and I'm truly delighted to have helped make the dream come to life.  When I think back on all of the challenges Judith faced in the early years, I'm in awe of her determination and the single mindedness with which she pursued the idea of creating a girls choir that could sing and dance and that would be recognised worldwide. We've dreamt up lots of things together, worked hard with our team members, challenged each other's ideas and also laughed together. Judith is an absolute gem of a woman and I believe an inspiration to us all.  It's possible that she's living proof of how good music is for our hearts, minds and souls.
Kylie Lee-Archer
GENERAL MANAGER OF BUSINESS SERVICES
Seeing 10 AGC girls and 15 g-oz girls perform together for the 'Shining in the Kimberley' tour.
I feel very proud to be a Director of both the Australian School of Performing Arts and the AGC's charity partner, Girls from Oz. My highlight for 2019 was when a small group of AGC girls visited Halls Creek in East Kimberley, WA on our inaugural 'Shining in the Kimberley' tour. This was the first time that choristers from the Australian Girls Choir joined g-oz team members to visit the community and perform alongside the g-oz girls.
The final performance in Kununurra featured 10 Australian Girls Choir choristers from Adelaide, Brisbane, Melbourne, Perth and Sydney and 15 students from Halls Creek District High School who perform together for the community. It was a magical night when the confidence and professionalism of the AGC rubbed off on the Halls Creek girls, who in turn shared their country and culture with the AGC girls. Two way learning at its best!
Also, conducting the g-oz girls from Halls Creek, Carnarvon and Lockhart River onstage with the AGC at the Sydney Opera House in November came a close second on my 2019 highlights reel!

Vicki King
ARTISTIC DIRECTOR
Watching the excitement of six and a half thousand little girls on stage across our eighteen annual concerts!
Last week I was excited to be in Canberra staging the final two concerts in our national season of eighteen wonderful AGC Annual Concert shows. As I was swept up in the performance energy of the girls, I was reflecting on the commitment shown by all of those in our community: choristers, parents and staff. Everyone invests so much in the success of these days: from the arranging of a song, to the scheduling of a rehearsal; from the exploration of musical concepts in class to learning many lyrics off by heart; from arranging family life and driving girls to rehearsals to designing wonderful hairstyles for concert day. Throughout the six weeks it's been a joy to see every one of our choristers perform with enthusiasm and authenticity. A big thank you and congratulations to our talented choristers, committed parents and creative staff. My best wishes for a wonderful summer break.
Jasmine Cruickshank
GENERAL MANAGER OF PR AND MARKETING
Performing with Hugh Jackman as part of his World Tour 'The Man The Music The Show'
This year, we were delighted to accompany Hugh Jackman as part of his World Tour of The Man The Music The Show, which saw members of our Performing Choirs from across the country sing for audiences of tens of thousands in 26 shows over five cities in Australia. The show involved more than 200 cast and crew from all around the world, and over the 5 weeks that the Australian leg of the tour ran we all became like family, working together to put on this spectacular show. Seeing our girls up on stage at each performance made me feel truly honoured to nurture girls from their very first singing class through to exceptional performance opportunities like this. It was pretty special to see how much our girls grew as performers during the tour as they took direction from Hugh and his team of music and dance specialists, many of whom work on Broadway. Our girls really were the ultimate professionals and they impressed everyone who worked with them with their passionate and authentic performances. I know moments like these create significant and lasting memories which are treasured by girls for years to come.
Libby Franke
GENERAL MANAGER OF PRODUCTION AND ADMINISTRATION
Seeing the creative and personal growth of the AGC girls on International Tour
This year we travelled with 56 Australian Girls Choir choristers for the 2019 AGC International Tour. I was incredibly impressed by the girls on tour. Their enthusiasm was infectious; each and every girl set high expectations of themselves as performers and it was wonderful to watch them grow on stage. My highlight for the year was their final performance on tour, which reflected their incredible growth as a group and as individuals. Before heading to the airport we gathered as a group and had a final opportunity to congratulate all of the girls for their contribution to this wonderful tour experience. Each chorister made the most of every opportunity; asking for individual feedback in order to grow as a performer, reaching out to make new friends within the touring choir, and connecting with host families to learn about the culture of our many destinations.