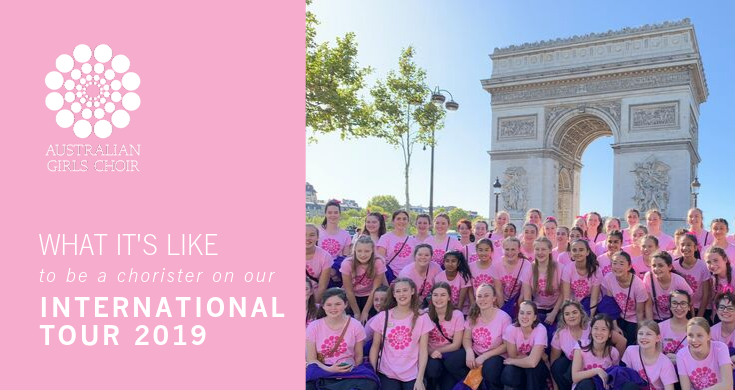 The Australian Girls Choir 2019 International Tour
Last week, 56 Australian Girls Choir choristers boarded a plane from Melbourne International Airport to Paris, to kick off the first leg of the 2019 AGC International Tour. Touring internationally is a huge part of the work we do in performing for audiences across the world, and provides opportunities for young women to broaden their musical and cultural horizons.
This is the choir's 44th tour since 1989, and we are proud of the reputation our touring choristers have built internationally, having performed for dignitaries including President Barack Obama, Queen Elizabeth II and Pope Benedict XVI.
Today we wanted to give our community a deeper insight into how our International Tours work, and what it's like for a chorister on tour.
Performances
The International Tour is an opportunity for our choir to perform for audiences across the world. The choir performs a 50-minute show to a variety of concert venues, public monuments, schools and cultural institutions during the tour.
This year, our choir is performing in 12 concerts across France, Germany, Netherlands and England. Some highlights include performances at the Australian Embassy in Paris hosted by the Australian Ambassador to France, the British Cemetery in Villers-Bretonneux, France, a public performance in Neuenhaus, Germany and at the Department of Home Affairs Annual Reception at Australia House in London.
In addition to performing, choristers also take part in singing and music workshops with local choirs and schools, to experience the joy of singing in a variety of cultural contexts. Workshops with other choirs and schools is one of the most rewarding parts of any AGC tour. Exchanging songs and musical games from the cities we visit, means we get to share our knowledge and passion while learning from other music traditions.
By immersing themselves in the performing arts for three full weeks, touring choristers blossom musically and socially, while deepening their performance craft and expanding their live performance portfolio.
Cultural experiences
We are passionate about providing our choristers with opportunities to expand their musical knowledge from different historical and cultural perspectives. At the AGC we value nurturing inquisitive and open-minded young women, and travel ignites a sense adventure in the group. While performances and music workshops are the main focus of the tour, the touring choir also visit many significant cultural institutions and monuments, eat fabulous meals, see live performances, and have the chance to experience the cities they're travelling to.
This year the our 2019 Touring Choir have a busy sightseeing schedule that includes, the Eiffel Tower, the Arc de Triomphe, Champs-Elysees and Mon La Basilique du Sacré Cœur de Montmartre in Paris. The Royal Palace, Dam Square, Rijksmuseum and a canal cruise in Amsterdam. Catching the ferry from Duinkerken to Dover. And in London, Buckingham Palace, Westminster Abbey, Big Ben and the London Eye.
Host families
The AGC has a strong sense of community with choristers across the country, and we encourage the same sense of global community during travel. Wherever possible choristers are hosted by families from other youth choirs and schools in the country they're visiting. Chorister share fabulous home cooked meals, interesting outings, and develop new friendships with the children of host families. Host families give choristers the opportunity to socialise and make friends with children from diverse backgrounds, often with a common love of music.
In the coming weeks, we will be posting a travel diary of the girls so keep your eyes peeled on our Latest News and also on social media to follow along.