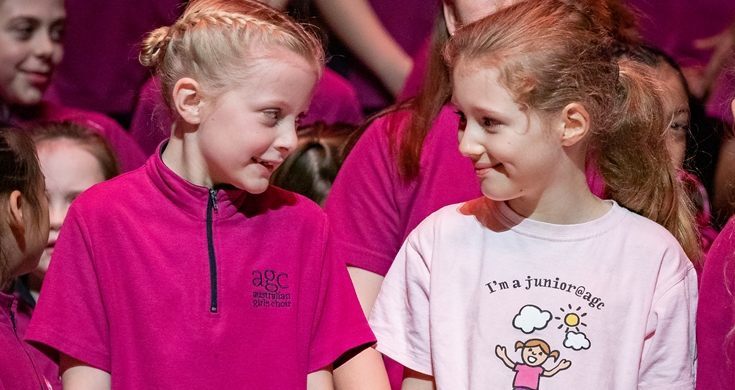 What choristers can look forward to in Term 1 at AGC
Welcome to another year of singing, dancing and performing with the Australian Girls Choir! This week we sat down with AGC Music Coordinator Laura Knowling to get her insights into what girls can expect from their first few weeks of classes. Laura (Ms Knowling) plays a key role in developing our musical curriculum and concert repertoire and is the perfect person to ask about what girls can look forward in Term 1 at AGC.
Get to know you activities
One of the key aspects of the first few weeks of classes is for choristers to get to connect with their tutors as well as the other girls in class. A variety of musical games and fun 'get to know you' exercises help students and tutors connect with one another and feel at home in their AGC family. This is essential to prepare choristers to come together as an ensemble over the course of the semester.
The friendships your daughter will form with other choristers will make her time at choir a place like no other. Parents comment on how rewarding it is for their daughter to have a social group outside of regular schooling where they can come together with other like-minded girls over a common interest in music. Over time these girls will blossom into lifelong friends.
Introduction to musicianship concepts
The focus of Semester 1 is skill-building and musicianship development, which puts choristers in an excellent place to begin Semester 2 which has more of a performance focus. Musicianship development includes things like vocal exercises, rhythm and pitch fundamentals, score reading and building choristers' music terminology. Our lessons are a safe space to learn new skills and give everything a go in a fun and inclusive environment. At a young age, stretching and exploring their voice as an instrument is essential to their vocal development. Singing in an ensemble environment creates the perfect opportunity for vocal and physical experimentation in a safe and positive space with other girls.
Lots of singing and dancing as girls are introduced to their Winter Showcase repertoire
Of course it wouldn't be a new year at AGC without an incredible line up of brand new repertoire and dance routines ready for the girls to dive into! The new choreography this semester is going to be energised, dynamic and really for the girls to learn!
An exciting moment for choristers is when their tutors reveal their performance items for the Winter Showcase Concert! Without giving too much away, this year choristers can look forward to an eclectic mix of musical theatre, to contemporary choral pieces, original compositions and iconic eighties anthems.
Good luck in your first few weeks of lessons. Remember our staff are always here to support you.
It's not too late to try a free class at Open Day this February
Haven't enroled yet? We still have a few places remaining at our rehearsal venues around the country. If you think your daughter may like to join the choir this year, then this is your chance to try a free class at Open Day in February!